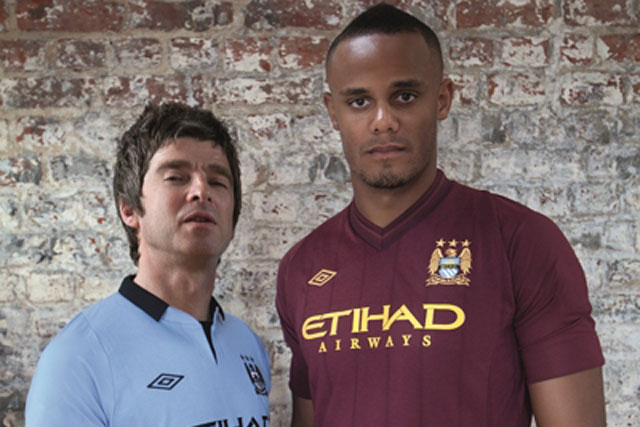 The former Oasis band member, and writer of 1996's anthem Wonderwall, is pictured with captain Vincent Kompany wearing the new Manchester City home and away shirts for the upcoming 2012/13 season.
Both kits promise to be the last with Umbro's logo after the brand was unceremoniously dumped in favour of a new six-year kit deal with Umbro's parent Nike, expected to earn the Premier League leaders up to £12 million a year.
The kit move caused is reported to have outraged senior executives within Umbro which was bought by Nike for £285 million in 2007, after it emerged last month the company is now up for sale again having been stripped of one of its major sponsorships.
The Manchester City away kit is available on general sale from 14 July and the home kit on 26 July. It follows the Manchester-based sportswear company Umbro and City inviting fans to come up with ideas to launch the Blues' new kits.
Over the coming weeks, a series of 'Show Your City' fan launches will be released; starting with shots captured by music photographer and City fan Kevin Cummins. Cummins, famous for his images of iconic Manchester bands such as Joy Division, The Smiths and The Stone Roses, took the shots of Gallagher and Kompany in Belgium.
Kompany surprised gig goers at the Rock Werchter music festival in his native Belgium by introducing Gallagher prior to his performance. The 80,000 strong crowd cheered as the Belgian centreback embraced the musician on the main stage before his set.
Manchester City captain Vincent Kompany said: "I always look forward to returning to Belgium but this really was a special occasion and a moment to savour. Noel is obviously a huge star so I was happy to introduce him in front of 80,000 fans in my home country."
The Home shirt retains City's iconic sky blue colour and also incorporates black detailing and trim which takes influence from the 1969 FA Cup and 1970 League Cup winning kits.
The new Away shirt sees a return to the classic maroon colour worn by the FA Cup winning teams of 1934 and 1956, also tailored by Umbro.
Noel Gallagher said: "The new home kit is pure class. It might be the best one we've had in a decade. As modern and radical as it is though, it's nice to see Umbro keeping our heritage alive in the new away kit. The best dressed defending champions of all time? No doubt."
The 88-year-old football kit-maker Umbro is arguably best known for being the kit supplier to the England football team. It first manufactured England kits back in 1952 and its current contract stretches through to 2018.
Follow Arif Durrani on Twitter: @DurraniMix