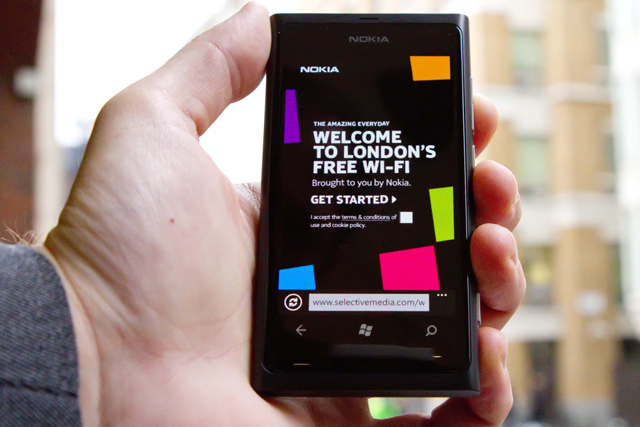 Internet access is initially available from today (1 November) until the end of 2011.
The trial will assess users' browsing behaviour and demand for the service.
If the trial is successful, plans are in place for a large-scale rollout across London from early 2012.
John Nichols, head of marketing at Nokia, said: "From tourists finding their way around the capital, to commuters updating Facebook or browsing on the move, we all depend on mobile to share our everyday experiences and enhance our lives.
"Nokia is pleased to sponsor this pilot which we hope will connect people even more easily than ever before."
Consumers will be able pick up free Wi-Fi from a radius of 50-100 metres per spot.
Nichols said the brand would not be collecting personal information from consumers that use the service, but would be using information collected from the trial to determine consumer behaviour when using Wi-Fi, to see how they interact with the Internet and consume data, and which devices they use.

Craig Hepburn, director of social and digital marketing at Nokia, said the service was also intended to get consumers to "share moments".
An ad sales company, Selective Media, is also involved in the trial and the Wi-Fi hotspots are managed by Spectrum Interactive.
The 26 hotspots will be served from bases at:
Oxford St
Tottenham Court Road
Bloomsbury
South Kensington
Knightsbridge
Mayfair
Lancaster Gate
Bayswater
Westminster
Sloane Square
Victoria
Marylebone
Follow Loulla-Mae Eleftheriou-Smith on Twitter: @LoullaMae_ES