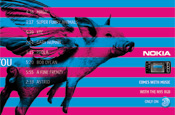 The service, now with operator 3 on board, includes unlimited music downloads from the Nokia Music Store within the purchase price of the device for a 12 or 18-month contract.
The Comes With Music campaign will feature in Carphone Warehouse sponsorship bumper ads during the show, as well as in a new TV execution. The 60-second launch TV ad shows thousands of vinyl records being pressed as key messages are spelt out in song titles such as 'Millions' (by XTC), 'Unlimited' (By Magic) and 'Tracks' (by Gary Numan).
The theme for the Comes With Music campaign by Weiden + Kennedy is 'Playlist People', which reflects the personalised nature of digital music and how consumers access their tracks. This playlist idea is brought to life visually through the use of stripes in a variety of colour palettes.
In the print campaign, various song titles are arranged in striking narrative headlines. The campaign will also focus on the stories behind the playlists created by UK consumers and musicians as it rolls out online.
Ambient activity will include taxis and buses in several cities, musical street theatre and student marketing teams at concerts. Playlist building projections onto key city landmarks nationwide will reinforce the campaign.
Will Harris, Nokia UK marketing director, said: 'The iconic, stripy executions reflect the energy and fun associated with having unlimited access to all the music you could ever wish and using them in the way you want.'