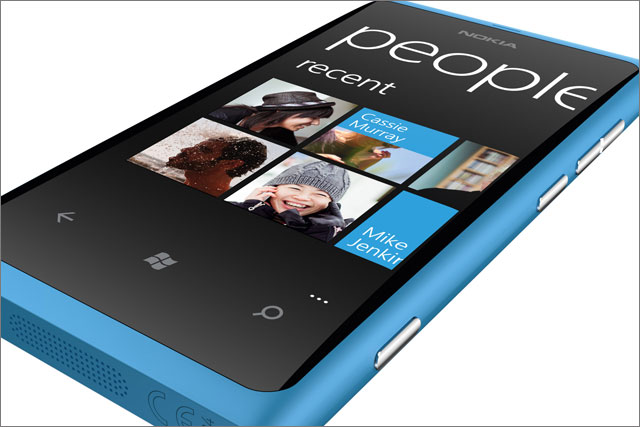 Nokia's Lumia 800 and Lumia 710 will be available in the UK by mid November in an attempt to turn around the company's fortunes, which have taken a battering of late.
Nokia chief executive Stephen Elop forged the partnership with Microsoft after comparing the company's ailing Symbian operating system to a "burning platform" in a leaked company memo.
The Lumia range launches today at the Nokia World conference. It will run on the Windows Phone 7.5 operating system, dubbed Mango.
Nokia will market the Lumia 800 phone as "stunningly social" and is positioning its Lumia 710 as a "no-nonsense smartphone that brings the Lumia experience to more people around the word".
In July it was revealed Nokia had appointed integrated agency Inferno to handle an estimated £80m global brand campaign supporting Nokia's first phone running on the Windows operating system.
As well as competition from Apple and those running on the Android operating system, Nokia will also have to compete with HTC, which is gearing up for the UK launch of its Titan and Radar smartphones, which both operate on the Mango operating system.
The Nokia Lumia 800 is available for pre-order on the Nokia website and will be shipped from mid November, while the Lumia 710 is scheduled to be available in the UK in early 2012.
Carphone Warehouse and Best Buy will stock the Lumia 800 from 16 November. It will be available for free on a £31 a month contract or for £449.95 on pay-as-you-go.
Customers who pre-order the phone from Carphone Warehouse will receive a £50 gift card to spend in Sainsbury's, Debenhams, Next or Toys R Us.
Features of the Lumia 800 include speech commands and Office Mobile integration which syncs work documents to the handset.
The Mango operating system is designed to make multitasking easier and allows users to keep their place in a game while reading an email.
A mobile version of the Internet Explorer 9 browser is hosted on the phone, which Microsoft claims has the same capabilities as the desktop version.
Follow Matthew Chapman on Twitter @mattchapmanuk