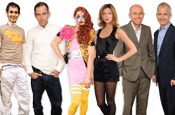 The channel, Capsule N96, will launch in October, to promote the company's new N96 handset.

It has secured presenters including fashion guru Wayne Hemingway and Jonny Smith from Channel Five's Fifth Gear.

Simon Ainslie, managing director, Nokia UK said: "Watching great content is no longer inherently linked to your living room.

"Great devices like Nokia N96 allow you to decide what content and when so the opportunities are endless on where to watch new shows and old favourites alike."

Capsule N96 programmes will be available to download from 1 October at www.nokia.co.uk/n96.