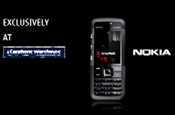 The ad featured various artist's names and song titles spelling out a tongue-in-cheek story involving the issue of transgender.
The text, when read together, appeared next to an image of a phone and stated: "Macho man…; Identity crisis…; What can I do…; Go see the doctor…; Six weeks…; Remove…; Bandages…; Dude looks like a lady…."
Three viewers complained that the ad trivialised the process of transgender and portrayed the transgender and transsexual communities in a negative light.
Wieden and Kennedy, who created the ad, said it was not intended to cause offence.
The agency said it had consulted The Beaumont Society, which is the largest and longest established transgender support group in the UK, and one of its representatives had attended the shoot.
The Beaumont representative did not believe the ad was offensive and the society was happy for it to be broadcast.
The ASA noted that some viewers may find the subject matter in poor taste but did not consider the ad to portray the transgender and transsexual communities negatively.
The ASA concluded that the ad was unlikely to cause serious or widespread offence and ruled that no further action was necessary.