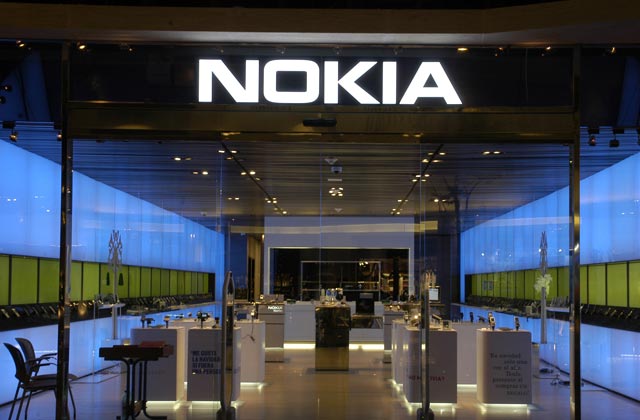 Nokia's handset market share continues to fall, from 34% in 2009, to 32% in 2010.
Handset sales increased by 4% compared to 2009, but varied widely according to geographic region.
Sales soared in China, 35% compared to the last quarter of 2009, and were up 20% in Latin America in the same period. Sales in the Middle East grew by 3%.
Sales fell by 2% in Europe, by 10% in Asia-Pacific, and by 9% in North America.
For the last quarter of 2010, pre-tax profits fell 3% from €1.07m to €1.04m, compared to the same period last year.
Stephen Elop, chief executive at Nokia, said: "In Q4 we delivered solid performance across all three of our businesses, and generated outstanding cash flow. Additionally, growth trends in the mobile devices market continue to be encouraging.
"Yet, Nokia faces some significant challenges in our competitiveness and our execution. In short, the industry changed, and now it's time for Nokia to change faster."
The financial report made no mention of the company abandoning its Symbian operating system, which many are speculating Nokia will drop in favour of Google's Android platform.
Sony Ericsson was the last major operator to abandon Symbian in September last year.
The report said: "Following the withdrawal of other members, the Symbian Foundation, a non-profit entity, transitioned to a licensing operation only, and the Symbian platform's development is now under the control of Nokia."
Nokia is known to be subsidising the development of apps for its Ovi store, which lags far behind the apps offering for Android phones and the Apple iPhone. The store ended free downloading of music in the UK last week.
Nokia appointed Jerri DeVard as its chief marketing officer in November and in December launched its global campaign for the N8 smartphone.
Apple and Nokia are engaged in a series of legal battles over which company developed the technology featured heavily in modern smartphones.