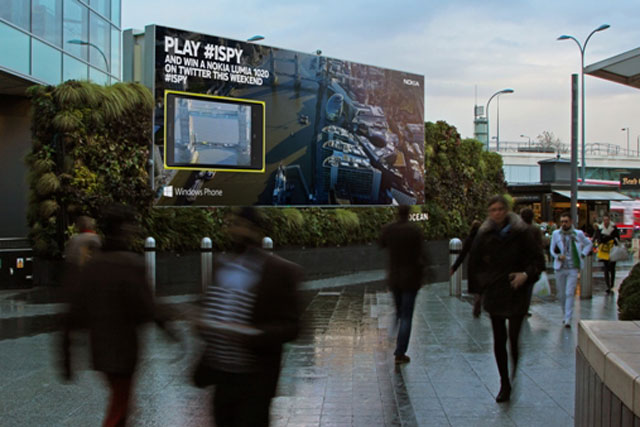 The campaign ran on Ocean Outdoor's network of digital outdoor screens to promote the Nokia 1020 Smartphone, using the creative designed for Twitter's winning entry in the interactive and experiential category in the 2013 Art of Outdoor awards.
Activity included a two-day domination of Ocean's Eat Street screen at Westfield London, which invited people to guess the names of a series of notable landmarks and objects featured on the full-motion screen.
In collaboration with Westfield, the media space was donated as part of the prize for the winning campaign. The Art of Outdoor is an annual competition run by Ocean Outdoor, in association with Brand Republic.
Tim Bleakley, the chief executive at Ocean Outdoor, said: "The reaction of the public to this campaign on our big digital screens showed once again it was a worthy winner of the Art of Outdoor competition last year.
"Players of the game used their mobiles to guess the object via a Twitter account and selected tweets were featured on the screen."
Darryl Mckay, the global digital marketing manager at Nokia, said: "Our modern take on one of the world's most popular games is a highly creative and clever way for us to communicate the social functionality and technical innovation of the Nokia 1020.
"This campaign allows us to put the product in people's hands at scale, literally showing the zoom."
Tate Britain, which won the digital out-of-home award, and the other winners of the Art of Outdoor 2013, will see their creative go live later this year.
Bill Giouroukos, the director of operations at Westfield and one of the Art of Outdoor 2013 judges, added: "Westfield's media partnership with Ocean is once again adding a new dimension to the shopper experience.
"Westfield is a big believer in the role technology is playing in people's daily lives, particularly when it allows brands to engage directly with our customers in such clever and unexpected ways.
"With over 27 million visitors to Westfield London last year, brands are taking advantage of this reach and creating bespoke feature activity specifically for our customers."