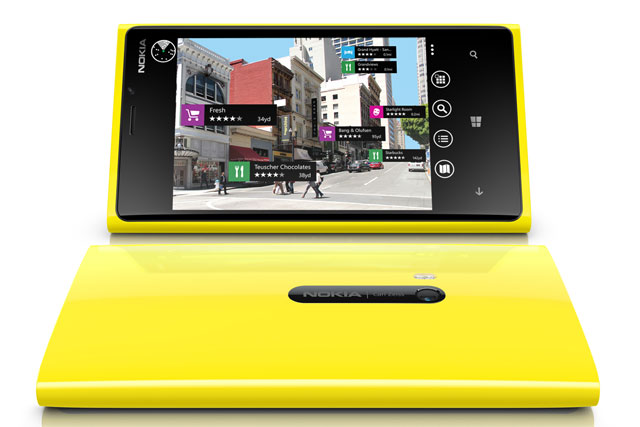 The company's shares plunged almost 14% during the press event hosted in New York, which included the unveiling of the high-end Lumia 920 and the mid-range Lumia 820.
Nokia did not provide details on pricing or an exact launch date. It stated it expects to start shipping the phones in select markets later in the year and will announce pricing and specific rollout dates country by country when sales are due to begin.
Both phones will run on Microsoft's new Windows Phone 8 (WP8) operating system.
Reacting to the news, mobile analyst Ben Wood said that because awareness of WP8 was still low compared with iOS and Android the Nokia devices would need "massive" marketing backing to woo users.
Nokia is positioning the Lumia 920 as a phone that helps the user get the "absolute most" out of their day through features including a powerful PureView camera, a high resolution screen and wireless charging.
The phone company claims PureView allows users to take images that were previously only possible on a standalone SLR camera, while Nokia executive vice president Jo Harlow claimed it has "the best viewing experience of any smartphone display".

PureView's lens has also been stabilised to allow the capturing of smooth and professional looking video.

The quality of the camera means Nokia will seek to capitalise on this feature by finding ways for people to use it further, including on the Nokia Maps and Nokia Transport apps.

Augmented reality will be built into both the camera's viewfinder and the Nokia maps app to give information on the surrounding area, including restaurant, café and shop details.

The phone's display has been improved to stop it washing out in sunlight and the display can now even be seen "in the desert", according to Harlow.

Nokia has also announced manufacturers offering accessories that take advantage of the upcoming phones' wireless charging ability.

They include a Fatboy recharge pillow and a JBL wireless charging docking station with high quality audio. The latter will work with the free Nokia Music streaming service that has just launched in the US.

Nokia has also partnered with Virgin Atlantic to put wireless charging stations in its London Heathrow Clubhouse lounge and will also introduce charging 'plates' on tables in Coffee Bean & Tea Leaf coffee shop outlets.
At the event that was co-presented by Nokia chief executive Stephen Elop and Microsoft boss Steve Ballmer, Nokia touted the Lumia 920 as "the most innovative smartphone in the world".