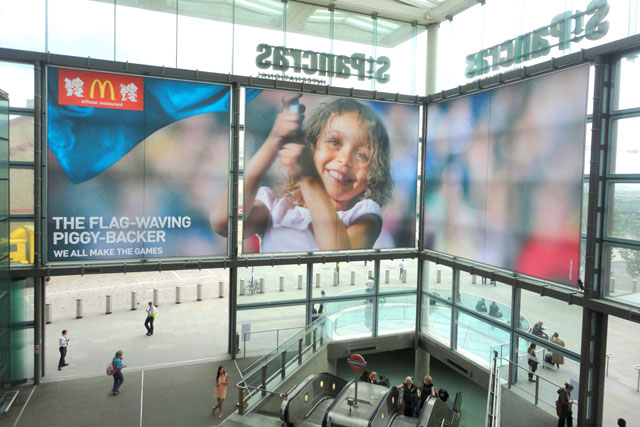 More than half of CBS Outdoor's sites near the Olympic venues (categorised as "vicinity") have been sold to non-sponsors in categories approved by the London Organising Committee of the Olympic Games (Locog), such as the arts and tourism boards.
Industry sources said this means that in terms of numbers, the majority of the vicinity sites sold anywhere in the country have been taken by advertisers who have not invested in sponsorship of the Games.
Agencies known to have bought advertising close to Olympic sites on behalf of non-sponsors include AKA and Dewynters.
CBS Outdoor has a far higher proportion of unsold sites classified as "vicinity" than other operators, because whole stations in the London Underground were restricted under the initial rules, whereas many of the other operators' "vicinity" sites were premium offerings.
However, in value terms, the circa £30m spent by sponsors is thought to outweigh money spent by non-sponsors. Sponsors have invested in premium sites in, for example, Westfield Stratford City shopping centre and Stratford's rail stations.
Gideon Adey, business development director at Kinetic, which buys outdoor media for sponsors such as BA, said: "As a member of the public, you will not think 'where are the sponsors?' The sponsors have done big stuff such as station dominations.
"The non-sponsors have done normal advertising. Although in numbers terms, more 'vicinity' sites might have been sold to non-sponsors, they won't look as though they are standing out."
Although the amount spent by the sponsors on outdoor advertising is far from the £250m bonanza many people hoped for, the sector is expecting ad revenue to rise by well into double digits in Q3 2012.
The deals JCDecaux has done with sponsors include a domination of Stratford regional station, sold to McDonald's, and activity in Stratford International station, sold to Deloitte and a second unknown sponsor.
Among the sponsors advertising on CBS Outdoor's portfolio are Lloyds TSB, which has taken a wrap at Stratford Underground Station, and Coca-Cola, which has wrapped the escalators at Hyde Park Corner.
Media Week's sister title Marketing revealed in January that non-sponsors in non-competing categories, such as public bodies, film, theatre, tourist boards and other organising committees, were going to be allowed to buy unsold outdoor space near to the Olympic venues.
Originally, only official sponsors of the London 2012 Olympic and Paralympic Games were allowed to advertise on outdoor media close to the Olympic Park, but this has been expanded to include some other sectors.
Follow Maisie McCabe on Twitter @MaisieMcCabe