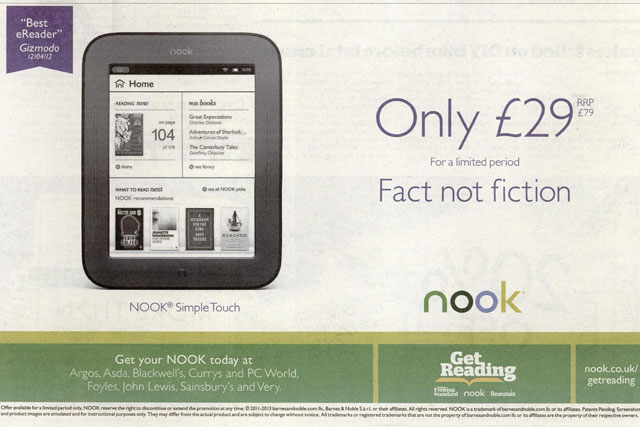 The national press ad promoted a limited edition offer for the Android based e-reader, which slashed the price from £79 to £29 and included a strapline claiming the offer was "fact not fiction".
However, shortly after the ad ran, product availability dried up in the UK after sales for the Nook increased to 120 times the normal rate.
Barnes and Noble had only prepared for sales to rise to as much as 20 times normal UK sales levels.
The Advertising Standards Authority received one complaint that criticised the ad and challenged whether there was "sufficient availability of the product at the advertised price".
In its defence, Barnes & Noble said it had made a "reasonable estimate of the demand" for the product prior to running the ad, involving both its US and UK sales and marketing executives.
It added that in response to the high demand, the Nooks had been redistributed evenly among its retail partners, which include Sainsbury's, John Lewis and Asda.
Barnes & Noble instructed the ad to be stopped from running on 3 May, just over a week after it launched on 24 April, and said stock was still left after the complaint was made.
However, the ASA upheld the complaint as it said the ad violated the CAP Code that requires promoters to estimate and meet responses to offers.
It said stock running out at some UK retailers and the remedial action meant, "demand estimates were significantly lower than response to the offer".
While Barnes & Noble calculated levels based on UK e-reader sales, the Advertising Standards Authority said it should have been based on responses to similar offers.
The watchdog banned the ad from appearing in its current form, and warned Barnes & Noble that it needed to calculate more accurate estimates on future promotions.