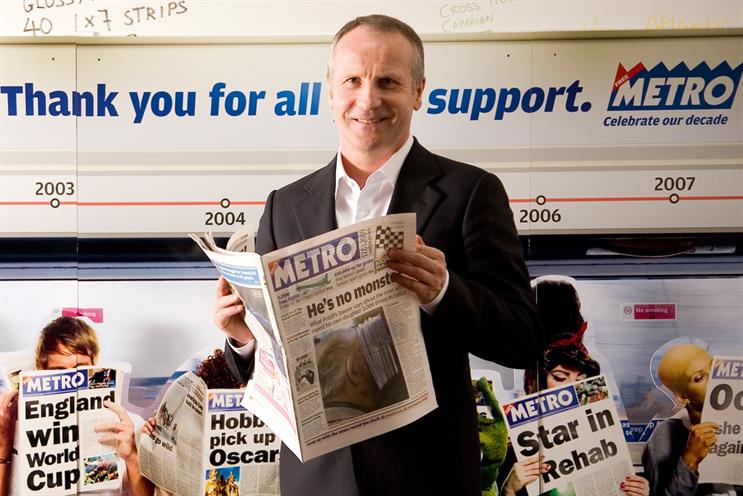 February 2006…
In November 2005, Daily Mail and General Trust announced it was seeking to sell off its Northcliffe regional newspaper division for (an optimistic) £1.5 billion. Having failed to attract bidders willing to come even close to this estimation, it decides, the following February, that it doesn't really want to sell at all – and announces that potential suitors have probably been spooked by a potential softening in the advertising market.
July 2007…
DMGT rediscovers its belief in the sector by buying three of Trinity Mirror's local newspaper divisions for £64 million: East Surrey and Sussex Newspapers, Kent Regional Newspapers and Blackmore Vale Publishing. Northcliffe Media's managing director, Michael Pelosi, says the division's transformation over the past year has
been nothing short of astonishing.
October 2011…
Northcliffe Media's new managing director, Steve Auckland (pictured), announces the sale of the Kent Regional News and Media to Kent Messenger Group, but the sale stalls in October when the Office of Fair Trading investigates a possible monopoly breach.
November 2011…
It's not a huge surprise when Northcliffe Media announces it is to close Medway News and East Kent Gazette – and that other loss-making titles in its Kent Regional News and Media division may be merged. Auckland says the OFT's intervention and the collapse of the Kent Messenger deal left the company "with no choice but to consider closing these titles with the resulting job losses".
October 2012…
David Montgomery (pictured), the former Mirror Group chief executive, backed by the Yattendon property group, is in talks to buy Northcliffe Media in a deal estimated at £100 million, and Trinity Mirror could take a minority stake in the new company.
Fast forward…
December 2012 When, after lengthy negotiations, Montgomery's valuation of the division fails to meet expectations, DMGT calls the whole thing off. And, as if to prove its rediscovered enthusiasm for all things regional, it now makes Trinity Mirror an offer it can't possibly refuse for every last one of its profitable regional newspapers. The Trinity Mirror boss, Simon Fox, says he'll think it over.