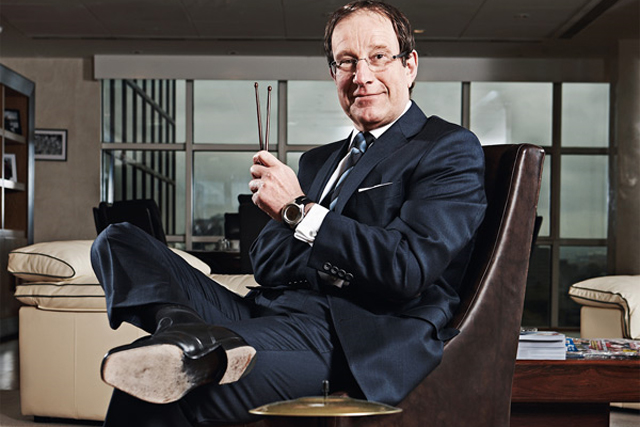 Financial results to be published by Companies House later this week are expected to show the acquisition of Channel 5 television from RTL in July 2010 for £99.1m has helped transform Northern & Shell's fortunes.
The company generated turnover of £688.8m in the year to 31 December 2011, up 31% from
£524.8m in 2010 according to its previous financial results
.
A spokesman said the increase was actually in the region of 40% working from a different 2010 revenue figure of £492.6m, which does not include joint ventures included in the reported 2010 figure.
The company did not provide pre-tax profit figure for 2011. In 2010 it reported a pre-tax profit of £30.3m, which was three times the amount it made in 2009.
Post-tax profits in 2010 totalled £52.5m, helped by a £22.2m tax credit, while in 2009 it made a £3.7m post-tax loss.
Channel 5's turnover climbed 23% to £353m and it converted an operating loss of £48.1m in 2010, to an operating profit of £26.2m in 2011.
This was higher than the group's more established newspaper and magazine businesses.
Express Newspapers, which includes the Daily Express and the Daily Star, made an operating profit of £8.8m, which a spokesman described as "around the same" as 2010.
The magazines, of which OK! is the most well-known alongside Star and New!, produced an operating profit of £12m.
The results also show that Desmond spent £28.5m on establishing the Health Lottery, which aims to donate more than £50m a year to health-related causes outside the remit of the NHS. The game launched to the public at the end of September 2011.
This spending, plus increasing investment in Channel 5 and the print operations, reduced the cash on the company's balance sheet from £91.7m at 31 December 2010 to £61.3m at 31 December 2011.
The Health Lottery reported turnover of £10m and a pre-tax loss of £28.5m.
According to Northern & Shell, The Health Lottery has been built out to more than 36,000 retailers and has now raised more than £17m for heath-related good causes since launching in October. Charities including Dementia UK, The Alzheimer's Society, Mencap, BTCV, The Children's Food Trust, The Carers' Trust and The Youth Sport Trust have benefited.
Follow Daniel Farey-Jones on Twitter @danfareyjones