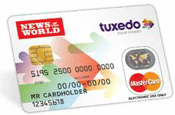 The card, which allows money to be withdrawn from ATMs or used to make payments online or via chip and pin, can be topped up via an online "eccount" into which money can be transferred via text message, phone or online.
As with The Sun credit card, it will cost £6.49 to sign up for the service but consumers receive a £5 cash-back incentive. The card can be topped up for free but users will have to pay varying amounts for transactions depending on whether they choose a pay monthly or pay as you go tariff.
Mark Simon, CEO of Tuxedo Money Solutions said:
"We are delighted to partner with News of The World to offer such large numbers of consumers a dynamic, cost effective, secure way to manage and control their money with our eccount service."
As well as The Sun, another part of Rupert Murdoch's media empire, BSkyB, introduced a branded credit card in 2005.