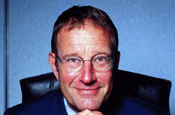 Express Newspapers, which is one of eight newspaper groups that back the NPA's activities, was dropped from the trade body on Friday after a meeting of its Council.

In a statement, David Newell, director of the NPA, said: "This means that NPA services will be withdrawn from the [Express] Group. The Council has written to the publisher explaining the reasons for this decision which relates to non-payment of invoices due in 2006.

The NPA's role is to represent and protect the interests of its members and its members also fund the marketing body the Newspaper Marketing Agency.

In May, Express Newspapers' owner Richard Desmond pulled the plug on its investment in the NMA.

Stan Myerson, the joint managing director of Express Newspapers, was unavailable for comment.