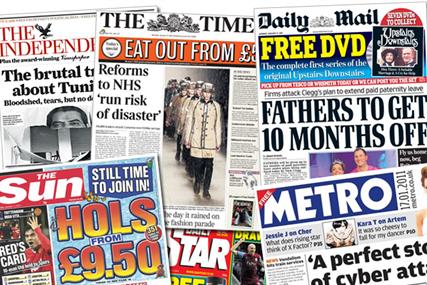 The top five newspaper brands in the UK – The Sun/Sun on Sunday (13.5m), Daily Mail/The Mail on Sunday (12.0m), Metro (7.8m), Daily Mirror/SundayMirror/People (7.9m) and The Guardian/Observer (5.3m) – are read by more than 46 million people, either in print or online every week.

The leading newsbrand in the 12 months to June 2013 was News UK's The Sun, which leapfrogged the Daily Mail thanks to the inclusion of its Sunday edition in the survey for the first time. Just under 13.5 million people read News UK's The Sun or The Sun (Sunday) in print or digital format.

Next, the Daily Mail's brand attracts 12 million readers across its daily and Sunday print titles and the Mail Online. Among the qualities, Guardian News & Media's The Guardian/Observer had the biggest reach of 5.3 million, followed by the Telegraph titles with 4.9m and The Times/Sunday Times with 4.5m.

It should be noted the data provides estimates-only, obtained by a continuous survey based on a representative sample of 36,000 adults. The online data used is provided by comScore and is gathered through passive measurement that monitors the individuals behaviour constantly. The print figure is gathered via survey and fused with the comScore data to provide the figures.

It seems somewhat counter-intuitive for example, that the Mail Online, which enjoys the largest web audience of any newspaper, attracting in excess of 134 million unique browsers in July's ABC report, has fewer weekly readers (2,449,000) than the Guardian's site (2,475,000).

There were notable falls in the latest NRS report compared to the figures for the 12 months of 2012. The Independent readership dropped 26%, the Daily Star (-16%), The Guardian and Daily Express (-14%), Daily Mirror (-13%) and The Sun (-11%). Compare readership figures of newsbrands for the whole of 2012 here.

A change in data providers means any further direct comparisons with previous years cannot be made. NRS PADD is now fusing to comScore website audience data, rather than the Nielsen estimates used for the previous three releases of NRS PADD in 2012.
| | | | | |
| --- | --- | --- | --- | --- |
| | Print | Website Only | Net Print + Website Total (Net) | Increase with Online |
| Quality | 000s | 000s | 000s | % |
| Financial Times | 892 | 334 | 1,226 | +37.5 |
| The Daily Telegraph | 2,687 | 1,877 | 4,563 | +69.8 |
| The Daily Telegraph/The Sunday Telegraph | 3,051 | 1,848 | 4,899 | +60.6 |
| The Guardian | 2,409 | 2,524 | 4,933 | +104.8 |
| The Guardian/The Observer | 2,781 | 2,475 | 5,257 | +89.0 |
| The Independent | 1,300 | 1,110 | 2,410 | +85.4 |
| The Independent/The Independent on Sunday | 1,527 | 1,101 | 2,628 | +72.1 |
| The Independent/The Independent on Sunday/i | 2,607 | 1,056 | 3,662 | +40.5 |
| The Times | 2,957 | 147 | 3,104 | +5.0 |
| The Times/The Sunday Times | 4,347 | 178 | 4,525 | +4.1 |
| | | | | |
| Mid-market | | | | |
| Daily Express | 2,221 | 293 | 2,514 | +13.2 |
| Daily Express/Sunday Express | 2,683 | 291 | 2,974 | +10.8 |
| Daily Mail | 8,072 | 2,558 | 10,630 | +31.7 |
| Daily Mail | 8,072 | 2,711 | 10,783 | +33.6 |
| Daily Mail/The Mail on Sunday | 9,521 | 2,449 | 11,970 | +25.7 |
| | | | | |
| Popular | | | | |
| Daily Mirror | 5,385 | 1,156 | 6,541 | +21.5 |
| Daily Mirror/Sunday Mirror | 6,325 | 1,133 | 7,458 | +17.9 |
| Daily Mirror/Sunday Mirror/Sunday People | 6,762 | 1,123 | 7,885 | +16.6 |
| Daily Record | 1,229 | 192 | 1,421 | +15.6 |
| Daily Record/Sunday Mail (Scotland) | 1,503 | 188 | 1,691 | +12.5 |
| Daily Star | 2,515 | 153 | 2,668 | +6.1 |
| Daily Star/Daily Star Sunday | 2,774 | 151 | 2,924 | +5.4 |
| The Sun | 11,285 | 1,117 | 12,402 | +9.9 |
| The Sun/The Sun (Sunday) | 12,400 | 1,076 | 13,476 | +8.7 |
Follow @DurraniMix