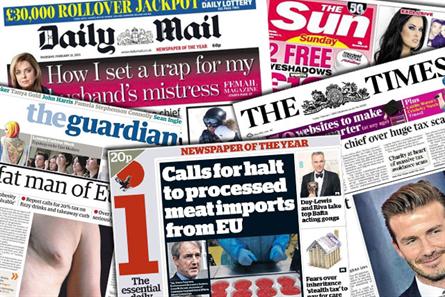 The NRS estimates almost 14m people a week read either the Daily Mail, Mail on Sunday or MailOnline.
News UK's tabloid Sun, the UK's biggest selling daily, tracked a fall in print readership across seven days, down from 12.8 million a year ago to 11.5 million. The Sun's website, which has a hard paywall, adding just 1.5 million to its readership.
The NRS measures average print readership in the 12 months to March 2014 based on a survey of 36,000 adults.
The website readership is data from Comscore for March 2014. The combined print and web readership figure aims to provide a net total (so without double counting) – but does not include data from smartphones or tablets.
NRS online and print readership | National Newspapers | Adults 15+

Monthly
Weekly
Daily
Net Print + Website Total (Net)
Website Only
Net Print + Website Total (Net)
Website Only
Net Print + Website Total (Net)
Website Only
Print Title(s)
Website(s)
000s
000s
000s
000s
000s
000s
The Daily Telegraph
telegraph.co.uk
11710
7574
6083
3524
2125
812
The Daily Telegraph/The Sunday Telegraph
telegraph.co.uk
12275
7383
6397
3488
2182
810
The Guardian
theguardian.com
12571
8678
6842
4571
2071
1278
The Guardian/The Observer
theguardian.com
12945
8491
7107
4507
2129
1273
The Independent/i
independent.co.uk
8079
4179
4185
1978
1327
474
The Independent/The Independent on Sunday/i
independent.co.uk
8412
4113
4351
1966
1354
471
The Times
thetimes.co.uk
5009
496
2879
174
1191
36
The Times/The Sunday Times
thetimes.co.uk/thesundaytimes.co.uk
7159
574
4238
228
1432
44
Mid-market
Daily Express
express.co.uk
5000
1755
2730
603
1214
99
Daily Express/Sunday Express
express.co.uk
5725
1737
3147
597
1276
99
Daily Mail
dailymail.co.uk
18686
7611
12673
4801
6032
1959
Daily Mail
dailymail.co.uk/thisismoney.co.uk
18946
7870
12852
4981
6086
2013
Daily Mail/The Mail on Sunday
dailymail.co.uk
20523
7087
13831
4617
6276
1936
Popular
Daily Mirror
mirror.co.uk
11580
4510
7126
2277
2930
621
Daily Mirror/Sunday Mirror
mirror.co.uk
12734
4389
7917
2239
3069
620
Daily Mirror/Sunday Mirror/Sunday People
mirror.co.uk
13163
4354
8251
2228
3129
619
Daily Record
dailyrecord.co.uk
2258
801
1544
355
779
91
Daily Record/Sunday Mail (Scotland)
dailyrecord.co.uk
2608
777
1814
348
838
90
Daily Star
dailystar.co.uk
4338
953
2739
372
1166
77
Daily Star/Daily Star Sunday
dailystar.co.uk
4786
946
2973
371
1214
77
Sunday People
mirror.co.uk
6320
5165
3226
2518
755
652
The Sun
thesun.co.uk/thescottishsun.co.uk
14518
1133
10959
432
5773
88
The Sun/The Sun on Sunday
thesun.co.uk/thescottishsun.co.uk
15859
1095
11963
424
6035
88