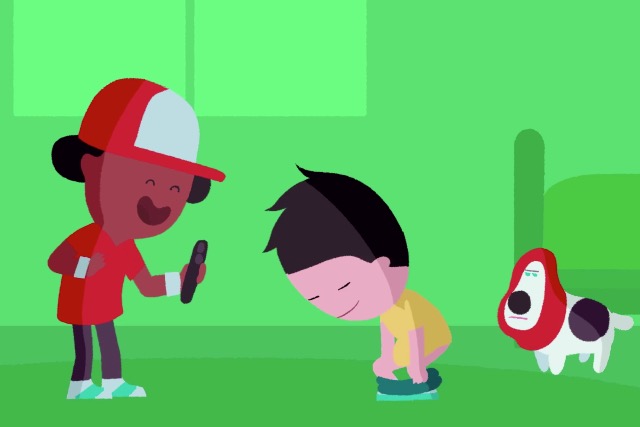 The 'Share Aware' campaign, which was created by Leo Burnett Change, uses animation that combines a light, humorous touch while conveying a serious message. It is aimed at parents of children aged 8- to12-years-old and features two executions - "I saw your willy" and "Lucy and the boy".
The latter ad depicts two boys messing around with smartphones. The voiceover on the ad asks, "What if they sent a picture of Alex's willy to their friend Katy - you know the kind that disappears in a few seconds.
"When Katy saw it, she thought it was very funny, so she screen-grabbed the picture and sent it to her friends; and they sent it to theirs."
The ad then shows Alex arriving at school, where his whole class shouts, "I saw your willy", leading him to run off.
As he scarpers down a street, a busload of passengers shout that they have seen his willy too, and at home there is even a newsflash about how the world has seen his willy.
At this point, the ad takes a more ominous turn, with Alex receiving texts, one from a bully saying "Ur willy is rubbish", but more worryingly from a stranger, saying, "I liked your willy. Can I show you mine?"
The TV campaign, which was planned and bought by OMD, launches today (9 January), with 10-second teasers during Coronation Street that will run across the weekend and encourage viewers to watch the full films online.
The TV work will be backed by social activity running until 7 February to drive awareness of 'Share Aware', which asks parents to share their experiences.
Meanwhile, the NSPCC has produced an online guide in which social sites have been rated for safety by parents and children.
A panel of more than 500 parents from Mumsnet reviewed 48 websites. They reached a consensus that all social networks aimed at adults and teenagers were too easy for under-13s to sign up to. The guide was produced in conjunction with agency Beyond.
Peter Wanless, the NSPCC's chief executive, said: "Children are taught from an early age that it is good to share but doing so online can be very dangerous. We must all be Share Aware.
"This Christmas, many children will have been given a smart phone, a tablet computer, or a games console.
"So it's the perfect opportunity for parents to have that important conversation with their children about who they are talking to and what they share when they socialise online."