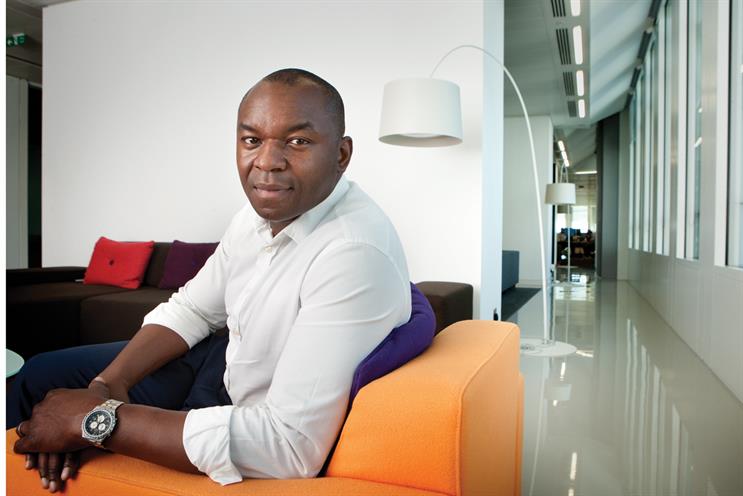 Enyi Nwosu eases into a chair in the spacious cafe on the top floor of Mindshare's office in Central Saint Giles. He is a few days into his new job as the strategic lead on Chanel and HSBC, and says he already feels at home at the agency as he takes in the panoramic views of London.
Nwosu has spent a 23-year career in the industry jumping between creative and media agencies. He has now returned to media, quitting M&C Saatchi after four years – during which he headed the central strategy unit – to join Mindshare.
He is part of a select band of media specialists who have worked on both sides of the divide. Nwosu started in the media department at Lowe Howard-Spink in the early 90s when many agencies were still "full service", then spent six years at the media specialist Optimedia.
He has had a succession of roles embedding media skills into creative agencies, such as working on "media-neutral" planning at TBWA\London with Trevor Beattie, setting up CHI & Partners' media venture with WPP's Group M, now known as M/SIX, and his most recent position at M&C Saatchi.
This month, Nwosu is reunited with old friends that he has met along the way. "I've always felt incredibly comfortable in either environment," he says. "Maybe it's a generation thing but, for those of us who remember full-service agencies, I don't think it has ever felt like jumping from one to the other.
"Today, I think it's harder to cross between the two because recently it has felt more 'them and us', so maybe it is more difficult for people who have been exposed to one or the other."
But as media becomes increasingly seen as paid, owned and earned, "media agencies are as well-placed to develop new content and new ways of engaging the consumers as creative agencies", he says.
Dressed in a Paul Smith suit jacket, jeans and pointy black shoes and sporting a Breitling Jupiter Pilot watch, he laughs off the suggestion that he is a fashion icon. He was ranked number eight in a list of best-dressed businessmen by GQ, but insists: "I'm not a fashionista; merely a fan of style and stylish things."
For those who remember full-service agencies, I don't think it has ever felt like jumping from one to the other
This keen sense of style will surely help in his new role. He takes charge of media strategy for Plus, the bespoke agency WPP set up to handle the Chanel account, which it won last summer. Nwosu has already started making regular trips to Paris to oversee the business but admits he needs to brush up on his French.
The son of a Nigerian couple who met while studying in London, Nwosu has spent his life living south of the river, though says he and his family are open to moving abroad should an opportunity arise.
Football is a passion: Nwosu has a level-one coaching badge from The Football Association. "There's nothing better than watching kids who are good at sport," he says. "When you're not good for nine, you're just good."
He was lured away from M&C Saatchi by an old contact, Marco Rimini, the chief executive of Mindshare Worldwide. Rimini himself was a strategist at JWT before moving to media. Other figures Nwosu cites as having changed sides include Matt Andrews, Mindshare's chief strategy officer, who had a stint at Mother; and Tim Allnutt, a co-founder of Naked Communications. Nwosu likens his move to Greg Grimmer's recent return to media at the mobile agency Fetch after working at HMDG (now Enter).
This is Nwosu's first global role. He sees the challenge in balancing the needs of the global picture with those of local markets. "Of course you want to influence what local markets do but, at the same time, you've got to have the sensitivity to service brilliant work that can be applied across the rest of the network," he explains. "They are global brands, so you need to create guidelines, you need to inspire, you need to influence and you've got to be sensitive to the brilliant work that is being done locally."
Nwosu says he is attracted to jobs where there is a "progressive challenge". He claims to have already experienced Mindshare's values after just a few days in the job. In the words of the agency's global chief executive and co-founder, Nick Emery, these are "speed, teamwork and provocation".
He may be sandwiched between Ratan Tata and Evgeny Lebedev in the GQ business fashion rankings, but Nwosu professes no great desire to become a billionaire or even be extremely rich. His driving force, he claims, is to go where there are interesting new challenges in media.
He says: "The closest I've come to setting up on my own was building CHI & Partners' media from scratch, but I've always enjoyed the progressive nature of the things I've been able to do. If I did my own thing, it would probably be in the world of sport."
For the time being, though, Nwosu seems content to relax into his Mindshare post, study a bit of French and learn the art of balancing the needs of local and global media.