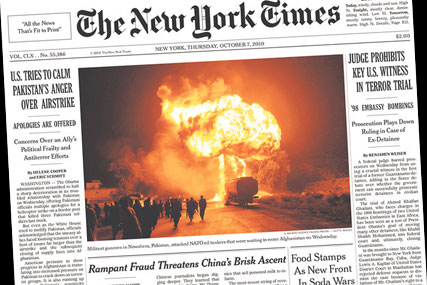 The prospective stake in Liverpool ended up in the hands of 'The Grey Lady' via the New York Times Company's 16.58% stake in New England Sports Ventures.
The New York Times acquired the interest in NESV when it bought the Boston Globe newspaper for $1.1bn in 1993. The media firm has since made steps to sell the stake or reduce it, but so far these have come to little.
In April, the New York Times reduced its stake in NESV when it sold 1.2% to Henry McCance, chairman emeritus of venture capital firm Greylock Partners, and it almost sold the whole stake last year as it mulled closing or selling the Boston Globe.
As well as owning Major League's Boston Red Sox, New England Sports Ventures also owns more than 80% of regional cable network, the New England Sports Network, which could soon be airing Liverpool games, adding an extra flourish of red to its broadcasting output.
The sale of the club to NESV for £300m was announced yesterday morning, as the club struggles with £240m of loans and £40m of fees owed to Royal Bank of Scotland.
The club was saddled with the debt by its current American owners Tom Hicks and George Gillett, who are arguing the sale to NESV undervalues Liverpool, which languishes near the bottom of the Premier League, and are attempting to block its progress.
Martin Broughton, Liverpool FC chairman, said yesterday that the board had decided to accept NESV's proposal on the basis that it best met the criteria set out originally for a suitable new owner.
He said NESV's philosophy was all about winning and they had fully demonstrated that at the Red Sox, which won the World Series in 2004 and 2007.
Broughton said: "We've met them in Boston, London and Liverpool over several weeks and I am immensely impressed with what they have achieved and with their vision for Liverpool Football Club.
"By removing the burden of acquisition debt, this offer allows us to focus on investment in the team. I am only disappointed that the owners have tried everything to prevent the deal from happening and that we need to go through legal proceedings in order to complete the sale."