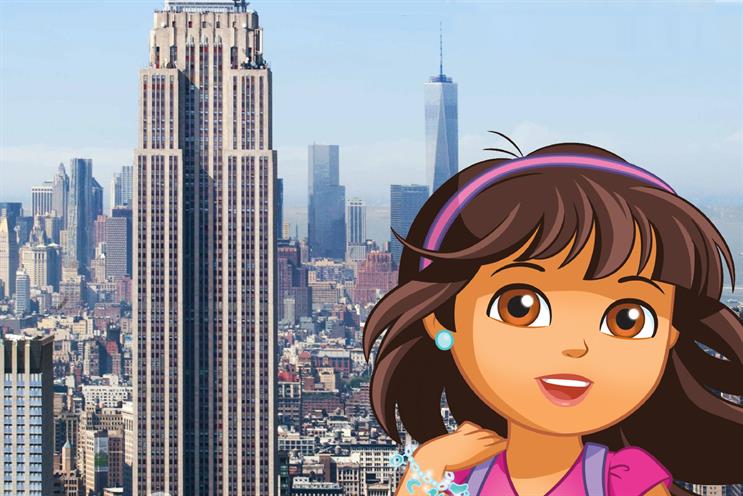 NYC & Company, the tourism marketing arm of New York, is today announcing a bilingual marketing initiative, its first ever, featuring Dora, the Latina character of Nickelodeon fame. The campaign, designed to attract English- and Spanish-speaking family visitors to the city, will include out-of-home, digital and social media elements.
This is not the first time the organization has created a family travel campaign featuring Dora. It began reaching out to this market in 2009, initially using a "Sesame Street" theme; in 2010, it employed Dora.
But it is the first time the group has reached out specifically to Spanish-speaking families, said Fred Dixon, chief executive of NYC & Company, citing a "new commitment to speak to a broader audience."
"Dora is the perfect first vehicle," he said. "You're going to see more foreign-language advertising going forward" to attract U.S.-based visitors.
Dixon also said Dora's latest, more mature portrayal — in "Dora and Friends: Into the City!" introduced last year, she is older than she originally appeared, and lives and attends school in a city — was a good fit for the new family travel campaign. "She has a broader audience, in their tweens, and the messaging has grown," he said.
The new Dora campaign — with all ads and related information in Spanish- as well as English-language versions — includes OOH advertising and a 30-second taxi TV spot in New York City, and bartered, OOH ads in Buffalo, a city with which NYC & Company has a longstanding marketing relationship.
The organization also is creating a bilingual Dora social media program; doing search engine marketing and buying bilingual advertising on the Sojern digital advertising network to reach prospective family travelers in New York, New Jersey and Connecticut; in the Northeast rail corridor served by Acela; and in Miami, Los Angeles, Dallas and Austin.
The bilingual out-of-home ads feature an animated Dora in front of photos of New York landmarks, like the Brooklyn Bridge, Bronx Zoo and Empire State Building.
The family travel sector has grown increasingly important to New York's tourism industry, said Dixon. In 2014, the city had 17.2 million family visitors, a projected 3% increase over 2013; since it began courting families in 2009, family visitation to New York has grown by 30.3% and now represents 30.5% of all visitors.
Dixon declined to quantify the new Dora campaign's budget, but said its total media value will be $5.8 million, through May 2016.