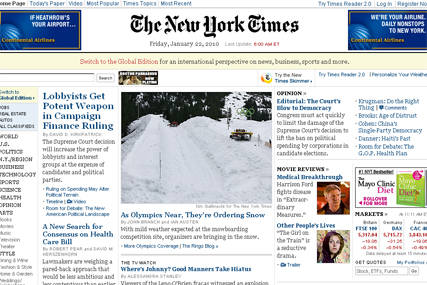 The New York Times announced plans for a metered model to access content from its website earlier this week. The approach will give readers a certain number of articles for free before they have to start paying a monthly flat fee or an annual subscription for access.
The plans have been a year in discussion and some have questioned whether the paper will fare any better this time around than it did last time with TimesSelect, which by the time it closed after two years, had signed up 227,000 subscribers.
In a Q&A with readers, Janet L Robinson, president and chief executive of the New York Times Company, said the company had learned a lot from its earlier pay model and most importantly "that people will pay for content online" and that it was the quality of the journalism that made it stand out.
Robinson said: "We also learned that you have to carefully weigh the benefits of an advertising and a subscription model. And we learned that many NYTimes.com users believe what differentiates us is our journalism, the depth and breadth of our reporting and analysis."
Robinson said the many developments, including price, that have come in the two years since TimesSelect shut also work in its favour, allowing what she called "frictionless commerce".
She also spoke about iTunes and how it had paved the way for micropayments. Significantly, this week speculation has linked the New York Times paid content leap to Apple's tablet, supported by a new web-based iTunes service that readers could use to pay for NYT.com content.
Robinson said: "We believe our customers are ready for this new model. Services like iTunes have paved the way for users to pay for digital content. And based on our research we now believe that a significant number of our best customers are willing to pay for access to the entire website, if they are not getting it free as a benefit of subscribing to the newspaper."
In addition she said there were no plans to bundle subscriptions to Apple's rival Amazon Kindle with site subscriptions.
Robinson said the metered model would differ chiefly from its previous effort because the entire site will be affected by charges while TimesSelect demands readers pay for columnists and archives only.
Robinson said: "We decided to take down the wall [TimesSelect] because search was becoming a bigger factor and advertising was more robust.
"We expect the new metered model to capture both - allow us to remain a vibrant part of the search-driven ecosystem of the web, and give us the flexibility to preserve our successful advertising business."
Robinson also gave details of efforts The New York Times website will be taking to police its content and stop people from creating a new free account with another vanity email address.
She said: "We have a number of techniques available to make it more difficult for people to do as you suggest. At the same time, we are continuing to develop new features and functionality like personalization, which make it more valuable to establish a consistent identity on NYTimes.com."
Robinson also addressed key customer services issues and shed light on the online infrastructure that the company will build for the NYT.com to provide users with "an uncomplicated, frictionless experience when they wish to purchase a subscription".
In answer to questions about lost traffic and advertising revenue, Robinson said the NYT Company had carefully considered the impact this will have on readership and advertising revenue and believe its approach will be flexible enough "to preserve, even enhance, our digital advertising business as we build our online subscriber base".