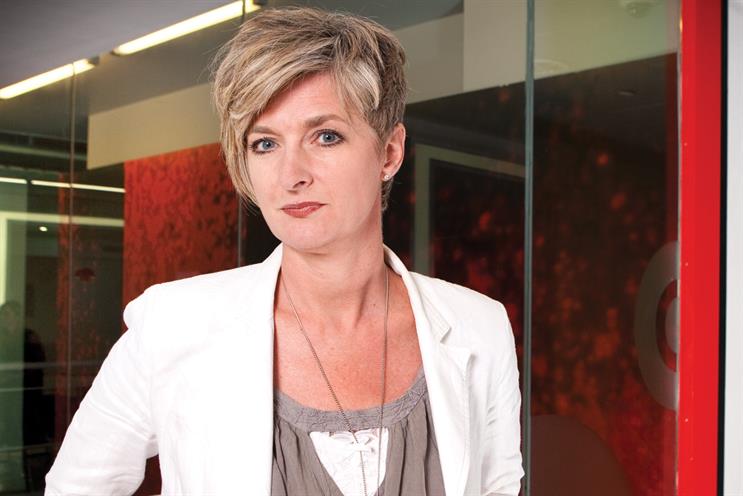 Cheryl Giovannoni, the new chief executive at Ogilvy & Mather London, says she is returning to the shop after a career in branding agencies for two reasons. One is what she calls the "fabulous" creative work at O&M, which picked up 21 Lions at Cannes last month. The other, she explains with a laugh, is that the agency is moving from Canary Wharf to the South Bank. "It is the worst possible place for Ogilvy to have been," according to Giovannoni, who first joined O&M in 1993, a year after it moved to East London.
Giovannoni replaces Hugh Baillie, who stepped down in May 2012 amid speculation that his relationship with Gerry Human, the chief creative officer, had broken down. For her part, Giovannoni describes Human as "incredibly inspiring" and sources suggest that the two South Africans are getting on well so far.
O&M is in a "moment of transformation", Giovannoni says. The problem, she believes, is that the agency has not had someone making its case strongly enough. "Ogilvy has such a legacy globally," she says. "It has been around since 1952. To really be part of helping [the UK agency] get the kind of fame and recognition for what I think is already going on feels like a real opportunity."
Ogilvy gets it: as a company, it understands how brands are changing
One might think that winning 21 Lions – more than twice as many awards as its nearest UK competitor – two years after leaving Cannes empty-handed would silence O&M's critics. Indeed, one of the big winners – O&M's press and outdoor ads for Expedia – are universally lauded for their creativity.
Yet, in some quarters, there remains this lack of recognition, evidenced by mutterings that O&M's gold-winning "camera shy" work for Dove didn't have a big media spend behind it.
Speaking off the record, some British judges complain that the majority of their fellow jurors at Cannes wanted simply to celebrate the best ideas, no matter if, or for how long, the ad actually ran.
And Human has responded strongly to the suggestion that O&M's success was partly because of the high number of entries that it submitted. He points out that the agency's conversion rate (the proportion of entries that were shortlisted or higher) was better than that of its competitors.
Giovannoni, meanwhile, counters claims from some rivals that O&M's Lion-winning work is unlikely to trouble the Creative Effectiveness category next year by stressing the agency's commitment to David Ogilvy's "we sell or else" mantra.
If the London agency has been unable to tell its story, then this is not just because of the gulf at the top after Baillie's departure. O&M is very much a network agency, dominated by global relationships with clients such as Unilever and BP. This, some former employees argue, can lead to talent and power draining from the London agency.
Balancing the demands of global relationships is not new to Giovannoni. As the president of EMEA, she sat on the global board at Landor Associates – where she worked with BP and its O&M team. She says there is much advertising agencies can admire about their branding counterparts, such as their long-term approach to clients and more direct access to the chief executive, but she is
excited about the "fame" advertising offers brands.
"The boundaries are becoming more blurred," Giovannoni says. "And the more blurred they are, the more exciting the challenges are and the more opportunities there are for brands. Ogilvy gets it: as a company, it understands how brands are changing – and being able to inject something new to help the agency get there is what's really exciting about the challenge."
Although she may not yet have a high profile in the advertising world, those who work with Giovannoni speak warmly of her. "Since she has arrived, you can feel the calm strength of Cheryl at work," Miles Young, the global chief executive of O&M, says. "She is a fantastic operator – she simply puts the work first. And she always has a clear, carefully thought out point of view on the issues that matter."
Although she describes herself as a "sluggish" runner, Giovannoni has completed the London Marathon a couple of times and is often seen jogging around Clapham Common in the early mornings with her labradoodle. It is no wonder that Giovannoni is engaging and energetic. She even shows Campaign a techy bracelet that keeps track of her movements during the day and wakes her at the optimum moment in her sleep cycle.
Baillie had started to establish O&M on its own terms by helping the London agency to win clients such as Expedia and Kronenbourg 1664 before personality clashes and global tensions apparently got in the way. If Giovannoni can get O&M back up the new-business table and firing creatively on a consistent basis, then it shouldn't be long before the agency gets the fame and recognition she feels it deserves.