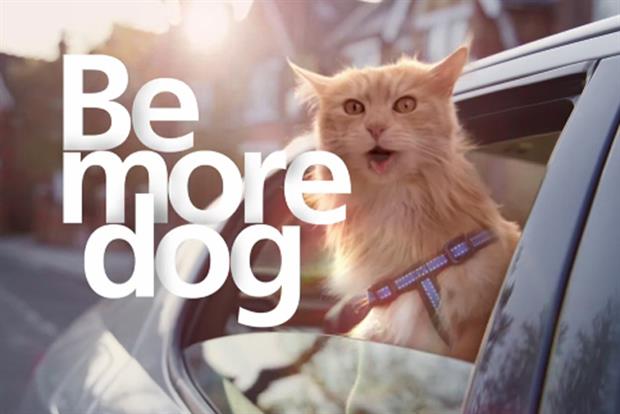 MKTG: Tell us about the success of 'Be More Dog'.
KWS: It has been an incredibly successful campaign. When I say 'campaign', it's meant to be far more than that, with an attitude and broad philosophy behind it.
It marked a fundamental change in attitude, celebrating the attitude of Be More Dog, which is about being more curious, particularly about technology. It's about trying out new stuff, talking to people who had never had an app on their phone, as well as people who knew more about technology than us.
How different was Be More Dog than previous campaigns?
We were always insight-driven as a brand and we nailed an insight with Be More Dog. At the time of launch in the market, it was not a great time and people were still suffering [economically]. So we came in with a positive attitude, got the timing right and were really positive.
What O2 stands for is that technology and the possibilities of technology should be open to everyone. Be More Dog brings that to life.
What have you been up to marketing-wise?
Obviously we are continuing with Be More Dog and have lots to say in the coming months. Tone of voice is a huge brand asset for O2 and when it launched we had a fantastic agency in The Writer in developing that for us.
We realised the importance of having a distinctive tone of voice. When we came out with Be More Dog, we knew it would only work if it permeated all the touchpoints of the business, internally and externally, and across all channels.
One of the major ways to do that was to look at the tone of voice and ensure that everyone internally was speaking in the same way. It empowered people to take on the brand, so it didn't just sit in the marketing department. We trained 600 people across O2, from in the call centre, to the legal department.
Were there challenges in conveying the tone of voice of Be More Dog to staff who might have viewed marketing and the campaign as an adjunct of the business?
You always get those people who say that they don't quite get this. But genuinely, we were quite overwhelmed by how positively it was received. We had a big roadshow and showed people the TV ads. And they believed it and fundamentally believed in the principles.
The principles in particular were about the attitude of being positive and inspiring and being curious about customers too. Putting yourself into thinking what the customer is asking for, rather than telling them what they need.
Does O2's approach to marketing differentiate your from your rivals?
I think it does. The small things, once they build up, they collectively can be powerful. You see it in social media. When we changed the tone of voice and were testing, we could see open rates improve. A lot of signs were coming through that it was the right thing to do.
What's the future for Be More Dog?
Be More Dog, as with every brand [platform] will evolve over time We are looking at the next stages of relevancy today. As with any good marketing, we keep evolving, while the fundamentals remain the same.
---
Recommended