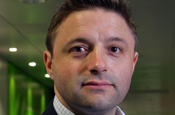 Gregory will be responsible for the overall media strategy at 02, as well as building an advertising business delivering mobile and cross-media opportunities for brands.

Gregory will report to Tim Sefton, the senior vice-president of strategy and development for the O2 group.

He will have full profit and loss responsibility for the business unit that will develop integrated offerings spanning all of O2's channels.

Gregory resigned from his position at Blyk, the ad-funded mobile phone start-up, last month.

Before he joined Blyk, he was the new-media director at the Telegraph Media Group and, before that, board director at Emap.

Sefton said: "We launched 02's media business in 2008, fast developing a leading media channel for both UK and European advertisers.

"The reception from the advertising community has been excellent and Shaun's appointment escalates that strategy at a key time for O2."

O2 launched its media business in November last year in a bid to provide advertisers with targeted unified marketing opportunities across its mobile, e-mail, online, in-store, direct and experiential channels.