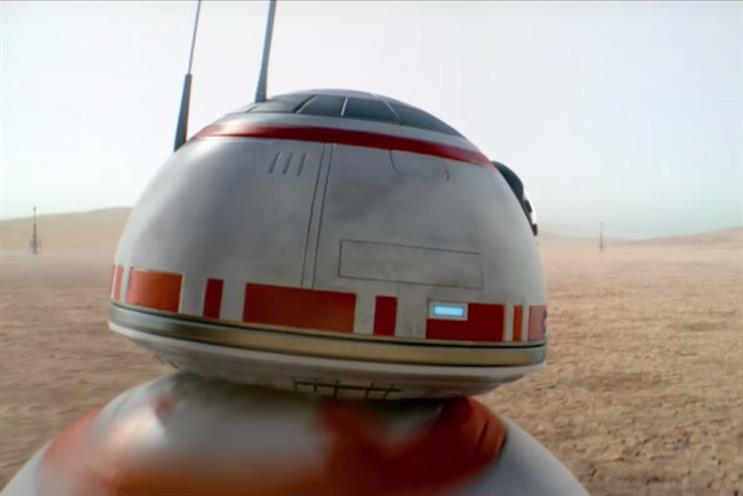 Examples that could be seen as particularly tenuous include Sky's range of Star Wars-themed remote controls, and Duracell likening itself to 'The Force' in a Christmas TVad.
O2 is among Disney's licensing partners, offering customers Star Wars-themed giveaways and tickets to the premier via its loyalty scheme, Priority.
Chris Arrowsmith, who heads up the scheme and is a fan of the franchise himself, argues the partnership is a stronger fit than others, giving O2 Priority immediate mass market cut-through.
Arrowsmith has spearheaded the tie-up, with the help of partnerships agency Cherry London.
"The thing about all the adverts you'll see, primarily with FMCGs, is that they have [inserted] their brands into the creative," he tells Marketing. "People see through that quite quickly. [They] know you're using Star Wars to sell [them] a battery."
For O2, the Star Wars tie-up is a softer sell to foster loyalty, and to highlight the perks of Priority and, by extension, of signing up with the operator.
While most mobile customers, regardless of their network, are aware of O2's Priority early ticketing and £1 lunches, awareness of the carrier's film and entertainment offerings are rather lower.
"We wanted to use this film and partnership to send a message – that we're not just about £1 lunches," says Arrowsmith. "Star Wars has such a huge following that anything [relating to the franchise] would have cut-through."
For Arrowsmith, the Star Wars-themed ad for O2 Priority is particularly distinctive, following in the vein of eye-catching ads like VCCP's Beyonce campaign in 2013.
For the Star Wars campaign, O2 recreated the look and feel of the original films, bringing in Anthony Daniels, voice of C3PO, and R2D2. In the ad, they journey across the desert to meet new droid BB8 in a scene that pays homage to Princess Leia's holographic message in Star Wars IV: A New Hope.
YouTubers commenting under the ad online have been unable to tell whether the footage is an ad or from the films, something which distinguishes O2 from the more unsubtle brand tie-ups.
O2 will be giving out more than 250,000 "gifts" to Priority customers, varying from free stickers and phone wraps to Star Wars-branded mobile speakers. The latter were handed out in 500 stores around the UK and were so popular that customers were queueing around the block to claim their speakers.
O2 has been dabbling in film for several years, offering premier tickets to the Hunger Games, among others, but the Star Wars tie-up is the first "joined up" campaign of this scale. Will the carrier do more?
Arrowsmith won't go into details, but says O2 has identified film as a key passion point for its customers. He says the Star Wars deal won't be a "one-off", and that Priority customers can expect new tie-ups in the near future.