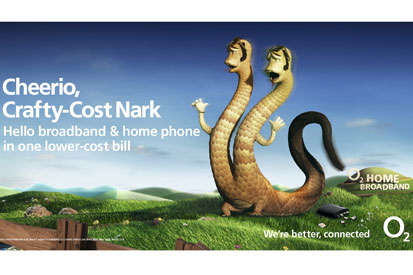 The ads, created by VCCP, use a series of characters to illustrate problems with broadband companies and insist that O2 offers a better alternative.
O2 has said that consumers who sign up to its service will avoid the problems represented by the characters, which
include No Support-a-Saurus and Mystery-Speed Mook.
'We're not saying we're perfect, but we want to be a champion for better broadband,' added O2 marketing director Sally Cowdry. 'We believe the industry is based on scammy prices that often exclude landline costs. They over-promise on speed and provide poor customer service.'
The initial five-week campaign will break on Friday. The activity will encompass TV, posters, press ads and what Cowdry described as a 'load of online engagement'.
O2 will follow this work with a video-on-demand push intended to demonstrate to those watching online TV that O2 Broadband can offer more than their current supplier.
The company's strategy is to question the legitimacy of claims by rival suppliers on the broadband speed they deliver to homes. Suppliers are currently permitted to advertise speeds 'up to' a certain level, when the actual speed may be far lower.
O2's drive follows BT's pledge to bring 'superfast' broadband internet access to two-thirds of British households within five years. The telecoms giant is pouring £2.5bn into the infrastructure project, which it hopes will strengthen its position against rival Virgin Media.
Last year Ofcom stepped into the competitive broadband sector by conducting an independent test of broadband speeds. The regulator intends to publish updated figures every six months in an attempt to crack down on bogus claims.
O2's consumer proposition was strengthened last week when it announced plans to offer domestic landline services. Customers who sign up to the service will be able to receive a single bill for home phone, mobile and broadband.