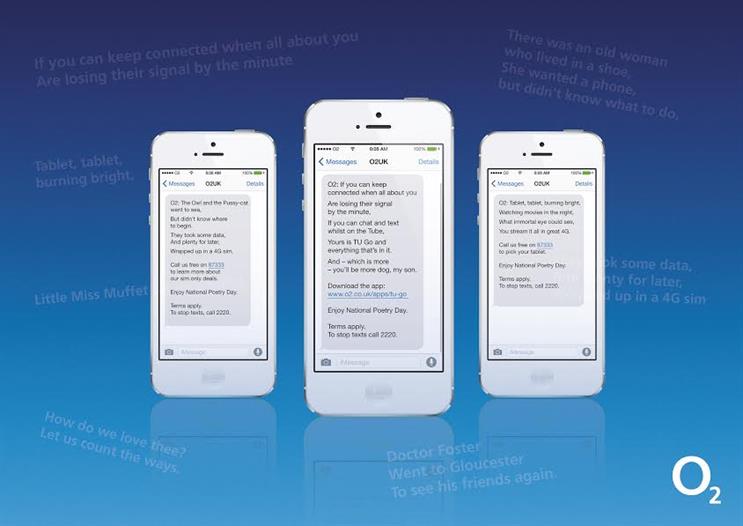 The campaign, launched on the back of National Poetry Day today (8 October), was created by Lida, M&C Saatchi's CRM agency.
It uses poems to tell customers about apps, mobile phone upgrades, sim cards, and selling tablet computers.
The poems are adaptations of classic poems from Browning, Blake, Kipling and Lear – as well as famous nursery rhymes, including, "The owl and the pussycat went to sea, but didn't know where to begin. They took some data, and plenty for later, wrapped up in a 4G sim."
Messages will be sent to O2 customers across the UK and will also be promoted on the brand's social media channels throughout the day.
Check this out @thischrisuk - #O2Rhymes #NationalPoetryDay pic.twitter.com/QUthnyCGTr
— O2 in the UK (@O2)
October 8, 2015
Nicky Bullard, the executive creative director of Lida, said: "It just goes to show that even the humble SMS can become something beautiful with a little craft. We've had a blast creating these."
Lida was appointed to O2's direct marketing account in 2011.
In 2013, it created the "be more dog" app, which invited users to type in a question and select a "dog" or "cat" response. VCCP handles O2's creative account, while Havas Media Group plans and buys the company's media.