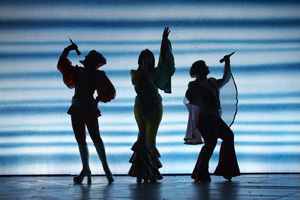 Around 12,000 people are expected to attend the epic event, which will also feature a live performance from the entire London cast of Mamma Mia! the stage show.

AEG Europe chief executive and president David Campbell commented: "The success of Mamma Mia! the film in the UK is incomparable. It has successfully brought the infectious music of ABBA to an entirely new generation. My children are already tugging at my sleeve to make sure I get them tickets for what will be a brilliant and fun filled afternoon out."

Universal Pictures International managing director Simon Hewlett added: "Universal Pictures are delighted that The O2 will be staging these epic screenings of Mamma Mia! The Movie. Watching Mamma Mia! with a large audience is one of the most uplifting experiences you can imagine and an audience at The O2 is as big as it gets."

The movie will be screened twice, with an afternoon and evening viewing.
To leave a comment register and let us know your thoughts.