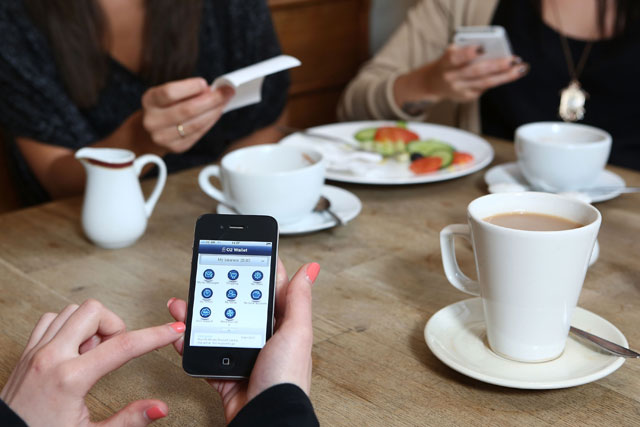 O2 Wallet is available to download for all O2 customers, as well as non-customers, from today (26 April). Users register their card details to create credit, which they can use on money transfer and m-commerce features.
One of the main features of the service is the ability to use it to send payments by entering the payee's mobile number for the price of a text message, in a similar way to Barclays's much-lauded Pingit app.
It also has a barcode scanner feature, similar to eBay's popular mobile app, to enable users to search for an item online and to compare its price from more than 100 participating retailers. Users can then use the service to make a transaction.
Daily deals will be offered through the service, with Sainsbury's, Comet, Tesco Direct and Debenhams all participating at launch, with plans in place to roll out a train ticket-buying feature.
O2 has partnered with Visa to produce a physical O2 Money account card, which can be used as a contactless payments card and for withdrawing cash credited to the wallet from ATMs.
It is compatible with Android, BlackBerry and Apple devices, including iPads, and will incorporate near field communication (NFC) technology in the near future, according to the network provider.
The telecoms giant is launching the service with a social media push via Facebook and Twitter, and plans to roll out a major above-the-line campaign at the end of the year.
The service was unveiled at a press conference in London yesterday by James Le Brocq, managing director at O2 Money, which had originally planned to launch at the end of last year.
Le Brocq said: "We believe it will transform the way people manage their finances and spend money.
He stressed the security features of the service, demonstrating the two-pin requirements for consumers, while explaining that all payments data is held in a secure server, rather than on the device itself.
He said: "We recognise that security is absolutely key. We believe this is the safest and most secure way to deliver mobile payment services."
The launch trails Orange, which in May last year launched a mobile payments service, with NFC technology called Simply Tap, with Barclaycard.
Google launched its own version of the mobile wallet last year, but it has so far been tight-lipped as to whether there will be a UK launch of the product.
Follow Sarah Shearman on Twitter @Shearmans