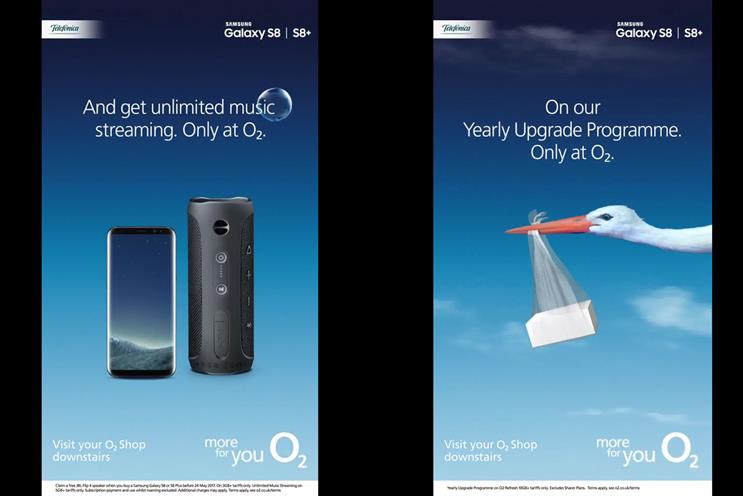 In a deal brokered by Forward Media, O2 has partnered with Dax and Mobsta to target people listening to the radio or a music streaming service within 500 metres of an O2 poster site.
The tech, created by Mobsta, allows the user's device ID to be served an audio ad. The device is logged when it passes an OOH site.
After the ad is served, the user can be tracked as part of a footfall study to see if the user is persuaded to visit a store.
The campaign for the Samsung S8 smartphone will also target people who are within 500 metres of ten O2 stores across the UK. An audio ad will direct them to the nearest shop.
The partnership with Dax is relevant to Global digital radio stations and streaming services such as Soundcloud and Deezer.
Oliver Deane, director of commercial digital for Global, said: "This is one of a number of groundbreaking campaigns that are changing the way advertisers use digital audio.
"Dax has already proven its ability to complement other media channels to deliver better results for advertisers.
"This partnership with O2 and Mobsta means we can measure the effectiveness of geo-located audio ads in driving consideration and footfall.
"This is an exciting prospect for brands looking to influence people while they are on the move."
Dax launches podcast ad-serving tool
The campaign's launch coincides with the roll out of Dax Podcasts, an advertising product that allows brands to serve ads across multiple podcasts through a single buying point.
The service is launching across five podcast platforms – AudioBoom, SoundCloud, BlogTalk, Podcast One, and How Stuff Works, as well as Global's own podcasts.
According to Global, 5.5 million people listen weekly to podcasts in the UK – making up 20% of the digital audio population. This number is expected to grow to 10 million by 2020.
Dax launched in 2014 as a single buying point for brands across the digital audio sector, including SoundCloud, AudioBoom and radio brands such as Global's Capital and Radio X and Bauer Media's Kiss.