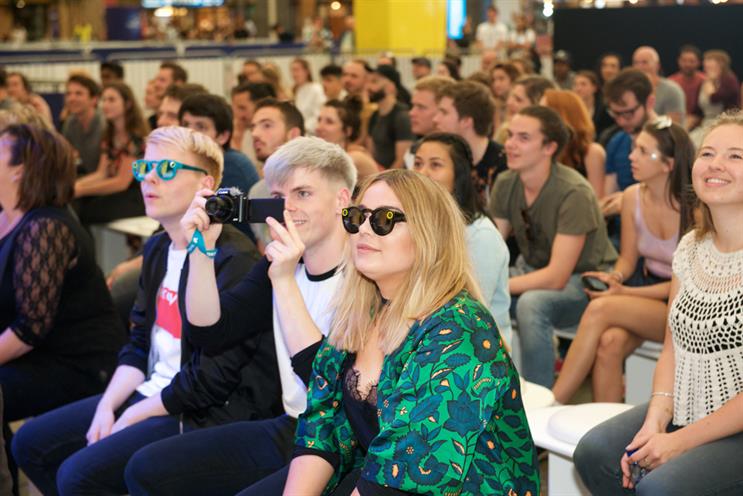 The former Millennium Dome in North Greenwich, south east London, is playing host to Alt-J, Celine Dion and Ed Sheeran this week, in the run up to 24 June – ten years to the day since Bon Jovi performed at the venue's opening night.
A pair of planned gigs on 23 June and 24 June by 90s jazz-funk outfit Jamiroquai have been postponed to December, after singer Jay Kay underwent spinal surgery.
O2 is partnering with Snapchat to film and create what it said was the first ever user-generated Snapchat ad. The process will see a Snapbot – the special vending machines used to dispense Snapchat Spectacles – arrive at the venue on an unspecified day this week. Fans attending on that day will be given pairs of Spectacles in order to record footage that will be used in the ad.
The collaboration also includes a series of Snapchat geofilters for artists on their show days, and a nationwide filter tomorrow, designed to encourage members to share memories from The O2.
Alongside the partnership, O2 has installed a "birthday gift box" – a six-by-six-metre installation, where fans are invited to take part in a game show, streamed on Facebook Live, hosted by Vernon Kay, with prizes of VIP passes to shows later this year.
The venue will also play host to a marching band each evening, playing renditions of the top tracks from each artist performing. Visitors will then walk a "blue carpet" on the way inside.
Ian Cafferky, director of brand and marcomms at O2, said: "The celebrations are a testament to the special relationship that O2 has had with The O2 since 2007 and they've been able to book some of the best talent around to help us mark the occasion.
"Through a combination of best in class experiential activations and unique, digital firsts, we're making sure that everyone who comes along are the stars of the show."
O2 renewed its sponsorship of the venue in February, in a ten-year deal thought to be worth around £120m.
Jules Arnott, marketing director at The O2, added: "O2 have been an instrumental, and inspirational partner for us from the very start. The scale of the celebrations they've built around our birthday shows is testament to that.
Watch O2's Snapchat ad