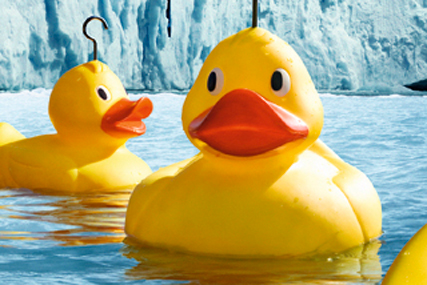 The trial involves over 25 sites across London, totalling 40 square kilometres, receiving 4G mobile broadband for the next nine months.
These areas include Hyde Park, Canary Wharf, Soho, Westminster, Kings Cross, South Bank and the O2 Arena in Greenwich.
The initiative marks the latest move to roll out superfast broadband coverage in the UK.
Last month, Everything Everywhere and O2 trialled 4G technology in Cornwall.
The 4G network will eventually replace the 3G network. It enables users to download a 500MB file in less than one minute, compared to more than five minutes on 3G.
It enables better high-definition film and music streaming, mobile online gaming and high-speed access to social networks.
Staff at John Lewis's head office in London will be able to use the network, with a view to rolling it out in stores. The mobile network provider, has also partnered with newly launched technology website Gizmodo UK, to allow its readers to try the high speed broadband.
Ronan Dunne, chief executive of Telefónica UK (O2), said: "Today's launch of the UK's first 4G London trial network demonstrates our commitment to delivering 4G to our customers at the earliest opportunity.
"The work we are doing now will lay the foundations for our commercial 4G network when it launches in the UK."
The announcement comes the week after eBay, the ecommerce giant, issued a manifesto to the UK government, asking it to ensure there are no further delays to the roll out of the 4G spectrum.
Miriam Lahange, vice president of global fashion at eBay, said O2's move is "very encouraging."
She said: "This O2 initiative is an important step to improving UK mobile infrastructure, and will give consumers in London a taste of what is to come after the 4G rollout.
"Ofcom should proceed with the auction of the 4G spectrum as quickly as possible so consumers and the industry can benefit from the next generation of mobile broadband."
Follow Sarah Shearman on Twitter @shearmans