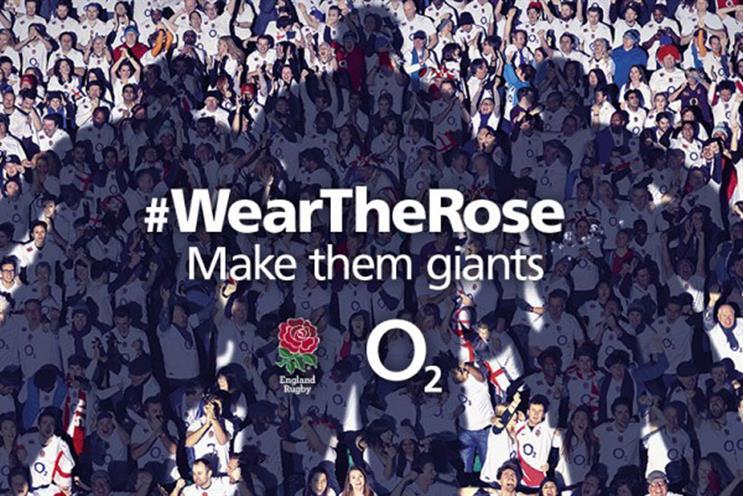 Poor old O2. After throwing its considerable sponsorship weight behind England Rugby, the mobile network could only watch in horror as the team became the first Rugby World Cup host nation ever to be knocked out of the tournament in the group stages, after its untimely defeat to Australia.
Putting on a brave face, the company said it was "here for the ups and the downs – this is what sport is all about". But, given the level of investment (the sponsorship was promoted via a TV ad), expectations would have been higher.
O2's #weartherose and #makethemgiants activity aimed to generate 5m "acts of support", which included social-media shares as well as offline interactions. The company can take some comfort that, by the time England crashed out, the campaign had achieved this.
Furthermore, while some O2 customers from the home nations other than England complained of bias, Human Digital's research shows that the majority of consumers felt positive sentiment toward the sponsorship.
July O2 showed its funny side, after a parody Twitter account of the then Liverpool FC manager Brendan Rodgers tweeted that he could not get through on the phone to Southampton manager Ronald Koeman. @O2 responded saying Koeman will have "blocked you mate", creating the most popular tweet of the month. It received 1400 retweets and 1481 favourites.

August O2 offered customers the chance to win free cinema tickets by asking users to retweet their updates. The posts, which promoted O2 Priority, used the hashtag #waggytails to tie in with the 'Be More Dog' ad campaign. Almost 900 people entered the competition.

September Hashtag #weartherose was mentioned more than 17,000 times during the month, as the Rugby World Cup kicked off. O2, as official sponsor of England Rugby, ran several competitions to promote the fixtures and the national team. One Direction also played a string of sold-out shows at The O2, accounting for 16% of the month's conversation.

October England's defeat to Australia on 3 October created the highest spike in mentions, as more than 11,500 users engaged in conversation on this day alone. O2 supported the national team by uploading a graphic entitled "We'll always believe", which in turn received more than 900 retweets and 1200 favourites.

55% of commentary relating to 02 was positive toward its RWC sponsorship. Animated ads featuring England players and the associated hashtags #weartherose and #makethemgiants were well-liked on social. Negative sentiment, at 31%, came mainly from O2 customers supporting the other home nations, complaining of bias.
60% of the conversion about RWC sponsor Emirates was without sentiment. This finding indicates that the majority were not aware that Emirates had a stake in the RWC. This is despite the airline's top-tier 'worldwide partner' status and campaigns such as 'Find the Flag', which gave teenagers the chance to lead the teams out onto the pitch