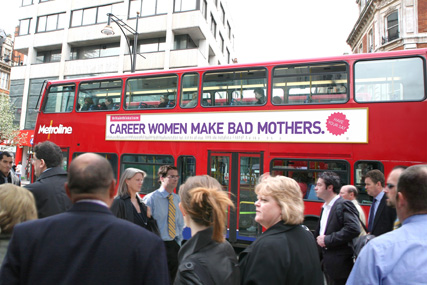 In a memo from the OAA seen by Media Week, the trade body ordered leading media owners including JCDecaux, Primesight, Clear Channel and CBS Outdoor to replace the ad with the alternative creatives 'Educashun isn't working' or '1966: it won't happen this year'.

The controversial ad will also be removed from any digital panels.
The creative, which was designed as part of the Britain Thinks campaign by agency Beta, launched on Monday on buses, 11,500 billboards and poster sites nationwide, as part of a £1.25m campaign to promote the power of outdoor advertising.
Following the launch of the campaign, members of the Mumsnet online forum described the campaign as "horrible" and "absurdly over-generalised".

One member wrote: "[The ad] doesn't show that outdoor advertising works, it just shows that controversial advertising works."
The original story also sparked an ongoing debate within the media industry.
However, Garry Lace, founder of Beta, said he was "disappointed the controversy has overshadowed an interesting portal for debate".

He said: "The campaign was designed to start a debate about the issue rather than criticise career women, which would clearly be wholly inappropriate and utterly ridiculous.
"You only have to look at the content on the Britain Thinks website to understand that we are trying to build a picture about what people in Britain think about some of the most important issues in an election year."
A statement from the OAA said: "As a priority, all posters with the strapline 'Career women make bad mothers' will be removed from sites, taking into account the inclement weather conditions. All digital posters have been removed."