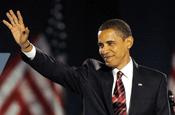 The promotion of prescription drugs directly to consumers, advertisers' ability to pinpoint would-be customers directly via the internet and the marketing of food and drink to children are all likely to come under scrutiny from the incoming administration.

"For the past eight years, we've had a Bush administration that's been reluctant to legislate when it comes to business," Dick O'Brien, the executive vice-president of the American Association of Advertising Agencies, said.

"With Obama, we'll see change of seismic proportions."

Much will depend on who Obama picks to take charge of the three bodies that most influence US marketing - the Federal Communications Commission, the Food & Drug Administration and the Federal Trade Commission.

The US ad industry is keeping close watch on the outcome of a Supreme Court case in which the FCC is appealing against a lower court's ruling that Fox should not face punishment over a live broadcast in which Cher and Nicole Kidman were heard to say "fuck".

"The decision has important implications for freedom of commercial speech," O'Brien said. "It's bound to have an impact on advertising."

Meanwhile, there is growing alarm that, with Democrats in charge of the Senate and the House of Representatives, client adspends will not continue to be subject to existing generous tax advantages.

However, Bob Jeffrey, the New York-based chairman of JWT Worldwide, said: "While there's no doubt we have serious economic problems, Obama inspires confidence and that's bound to impact on consumer demand."