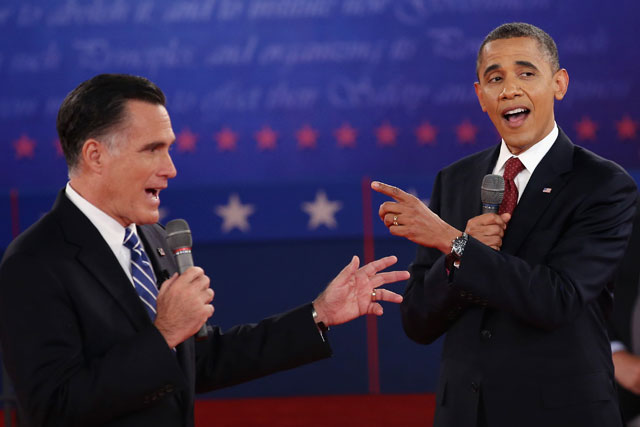 While the 2008 campaign was dubbed the first social-media election, in 2012 social is ubiquitous and much has changed.
It is no longer the preserve of the young and the connected. Now, it belongs, increasingly, to everyone. That is why the first Presidential debate became the most-tweeted-about political event to date and why it cannot be ignored.
Not everyone is on Twitter or Facebook, but tens of millions of people are, and that effect is amplified by the mainstream media. One no longer needs to be on, or participating directly in, social media to be connected to it; that is part of its power and reach.
1. Hashtags as slogans
As 2012 was ushered in, the digital world looked very different from that in 2008, with more platforms and more tools available.
Twitter was a footnote to Facebook four years ago, but that is no longer the case. Twitter chief executive Dick Costolo claimed back in January that 2012 would be the Twitter election - it was a good call.
Hashtags have become the new political slogans, as what was tweeted the night before fills newspapers' headlines and TV news soundbites the next day.
We saw evidence of that during the Republican convention in August, when Clint Eastwood's 'empty chair' interview brought a tweeted picture response from Barack Obama: 'This seat's taken.' During the first presidential debate, when Mitt Romney attacked US public-service broadcaster PBS, home of Sesame Street, Big Bird took flight. The final debate brought us #horsesandbayonets.
Both campaigns began buying Promoted Tweets at the conventions - a political first that quickly extended to search terms. After the third debate, the Obama campaign was quick to buy 'bayonets'. It was the word of the evening in the foreign policy clash.
Nonetheless, while Twitter has proved an important way to get the message out – both in terms of its presence in the campaign and the number of users and headlines it generates – it remains one part of a bigger story.
Facebook has also been there all the way – Obama with his 30m fans and Romney with 10m. It just does not make the headlines that Twitter does, but its audience has remained engaged throughout and we have seen some smart ad-buying there during the fight.
The candidates' wives, Michelle Obama and Ann Romney, took to Pinterest to play their part, while Flickr and Instagram were there for supporters' photos. Obama used the latter to launch his 2012 'For All' campaign targeting the youth vote, which was, in part, a swift response to Romney's damaging comments labelling 47% of people as 'dependent on the government' and 'victims'.
2. Blogs and GIFs
Blogs first had an impact on US politics in the 2004 election and continue to make their presence felt, most notably in the form of blogging platform Tumblr and the many animated pictures or GIFs that have come to populate it. While it doesn't have the organising power or reach of Twitter and Facebook, it is a powerful force online.
The Obama campaign has proved particularly adept on Tumblr. It has led the way, been edgy and taken risks that the campaign leaders say are a reflection of its grass-roots organisation. That's why some of its posts have racked up more than 50,000 notes, the currency of success on Tumblr.
The Romney campaign, like its politics, has been conservative in its approach to Tumblr, opting for pictures of Romney and slogans such as 'No, we can't.' This perhaps explains why its posts score only in the low hundreds on a good day.
This approach is reflected in the core strategies of the two parties, according to Paul Springer, communications professor at Buckinghamshire New University, and co-author of Pioneers of Digital, with former Microsoft digital strategist Mel Carson.
'Democrat platforms are good at floating issues and driving blog debates. Republican platforms seem more message-centred, flavoured with Romney's voice as and when appropriate,' explains Springer.
3. The mobile election
Of the millions of Facebook status updates, tweets and photos shared, many have one thing in common. '2012 will probably be known in retrospect as the year of mobile,' says Thomas Gensemer, managing partner at Obama's agency Blue State Digital.
It isn't just because Americans are using their smartphones more to access social and the web: it is the things for which the two campaigns have turned to mobile.
We have had the apps, from the Obama team's fully fledged campaigning offering to the one Romney used to unveil Paul Ryan as his running-mate. There was also the one that enabled Romney supporters to post their photo with a choice of slogan. Embarrassingly, one read: 'A Better Amercia (sic).' (See below) More importantly, though, mobile represents another way of raising money – the lifeblood of any presidential campaign.
Both camps have been experimenting with Square, founded by Twitter's Jack Dorsey. This simple swipe device, which attaches to smartphones to take card payments, is something that promises to radically change political fundraising.
More valuable than that has been text donation, with which both campaigns have been experimenting. Gensemer says Obama has raised tens of millions through the Quick Donate via SMS tool. Beyond that, however, mobile's use is more basic. 'Volunteers for both parties are relying heavily on their mobile devices to co-ordinate the all-important get-out-the-vote efforts,' he adds.
That underscores an important reality about all the technology and social media being used. It might be new, but it is based on old-fashioned politics.
4. Standout social moments
Many of the 'big moments' of the 2012 campaigns have been digital sideswipes – amusing, but not politically significant.
Of course we have had firsts. There was Obama's YouTube interview, and his 'Ask me anything' session on Reddit, which was ultimately more notable for crashing the site than what it revealed.
Gensemer says these efforts, while important tactics to build audience, 'are all directed toward the only goals that matter – raising money and mobilising volunteers'.
In 2008, communicating with voters via social media and digital was a game-changer, but that is no longer what it is about. Emily Hunt, director of insights at market research consultancy Edelman Berland, and a former US pollster, says now 'it is a hygiene factor, a fundamental "plain as white bread" requirement'.
This should come as no surprise. Social is now as key to political campaigning as direct mail or email, which Gensemer says remains 'the killer app for fundraising'.
However, Hunt's point is that it now 'takes a lot more to lead social communication than it did in 2008'.
So while not leading the charge, social is somewhere you have to be, partly because no one knows what would happen if they were not. Zac Moffatt, Romney campaign digital director, who is on leave from Romney's digital agency, Targeted Victory (see below), put it very simply earlier this month to The New York Times: 'The more people you talk to, the more likely you are to win.' That is why you have to be in social.
BATTLE OF THE DIGITAL SHOPS
Key campaign staff Co-founder Zac Moffatt is the Romney campaign's digital director.
Campaign focus 'Off-the-grid targeting', meaning less live TV campaigning, as 40% of people prefer alternative video sources to watching TV. 'We buy advertising for people who don't watch live TV any more,' says Moffatt. 'We have to find ways to get them to watch our video online. We're seeing that in our polling and focus tests: people haven't been seeing our TV spots, but know what they are as they've seen them (streamed) on Hulu. It's ... a new model of consumption.'
What Moffatt says 'We have completely embraced our two-screen strategy. In order to win this election, we had to change the way we treated online.'
What he says about the competition 'Obama's campaign is still running their Facebook campaign like it's 2008 ... I think our online ad team is superior to theirs.'
Key campaign staff Co-founder Joe Rospars is the Obama campaign's chief digital strategist.
Campaign focus One-click fundraising though its 'Quick Donate' tool for online, mobile and email donations. Importantly, it can remember user details, easing further donations. 'There's more of a priority on fundraising this time,' says Rospars. 'We passed 3m donors to the campaign in the same amount of time it took us to get to 2m last time.'
What Rospars says 'For us, social media is ultimately about community organising ... this is something that is at the core of who Barack Obama is and why he's in public life to begin with.'
What he says about the competition 'We've been very lucky to have very inspired and special people come on (board) in a moment and make something special happen and I don't see a lot of evidence of that on the other side.'
KEY LESSON: GET THE BASICS RIGHT
Taking risks can pay off. Tumblr and the Obama campaign is a good example of that, but it can backfire. We saw how with an Obama post on Tumblr that shared an image urging supporters to 'vote like your lady parts depend on it'. It was quickly taken down.
The basics are still important, as the 'A Better Amercia' (sic) Romney app showed. Zac Moffatt, Romney campaign digital director, conceded: 'A typo is a big deal.'
One characteristic of both campaigns is that they have experimented widely. It hasn't been all about Facebook, but also about Twitter, Tumblr, Instagram and Pinterest. To say it's about 'everything' is no understatement.
Obama vs Romney: The email face-off