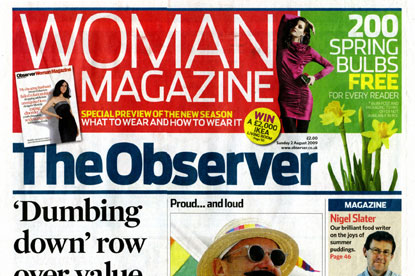 Observer Music Monthly, Observer Sport Monthly and Observer Woman will all close, although the Observer Food Monthly supplement will remain.
The redesign will also see the newspaper restructured as a four-section paper, consisting of news, sport, a review section and the Observer Magazine.
Business and financial coverage will be incorporated into the main news section, with travel coverage being moved into the new-look Observer Magazine.
The restructure comes as the newspaper's parent company, Guardian News & Media, has announced that it is to get rid of a further 100 employees in an effort to curb losses, which are currently running at £100,000 per day.
The company has already lost around 60 employees this year after entering a voluntary redundancy scheme, and has also shed around £10 million from its editorial budget.