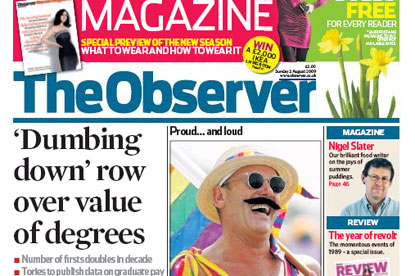 According to reports in The Independent and the Financial Times, GMG is considering closing the paper as part of a three-year strategic plan to improve the fortunes of the group and its flagship daily title The Guardian.

The Observer, which was bought by GMG 16 years ago, is understood to be losing around £10 million a year, contributing to the £36.8 million loss suffered this year by Guardian News & Media, the division of GMG which includes both The Guardian and Observer titles.

According to reports, GMG is also mooting the possibility of switching the Sunday paper to a Thursday magazine that will keep the Observer moniker.

A dummy edition of the weekly news magazine has already been mocked up and shown to members of The Scott Trust, the body which oversees GMG.

Meanwhile, reports suggest that the possibility of closing the title altogether has not been ruled out, with senior journalists at the paper expressing serious concerns over the future of the title.