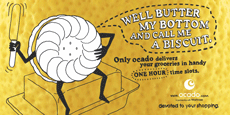 The company appointed CHI without a formal pitch and will launch the campaign in September, backed by a multimillion pound spend.
CHI has close ties with Waitrose, having worked closely in the past with the former marketing director Mark Price, now the company's managing director.
Both Jez Frampton, the chief executive of Interbrand and ITV's Michael Grade, who sit on the Ocado board, were also involved in the decision to appoint the agency.
Jon Rudoe, head of trading and marketing at Ocado, said the company wanted to update its creative message with the view of appealing to a broader audience.
"We are working on communicating what we do and how the service continues to improve as we grow up as a business," he said. "For the first time that communications mix will include TV advertising."
Sarah Gold, managing partner at CHI added: "Ocado is one of the country's brightest businesses with huge potential."
Ocado's last agency arrangement was with Ogilvy Advertising and ended over a year ago. Since then it has handled advertising in-house, with some radio ads reworked by Comesitdo.
Ocado, which was founded in 2002, now has an annual turnover of £300 million.
Media is handled by Starcom and is unaffected by the appointment.