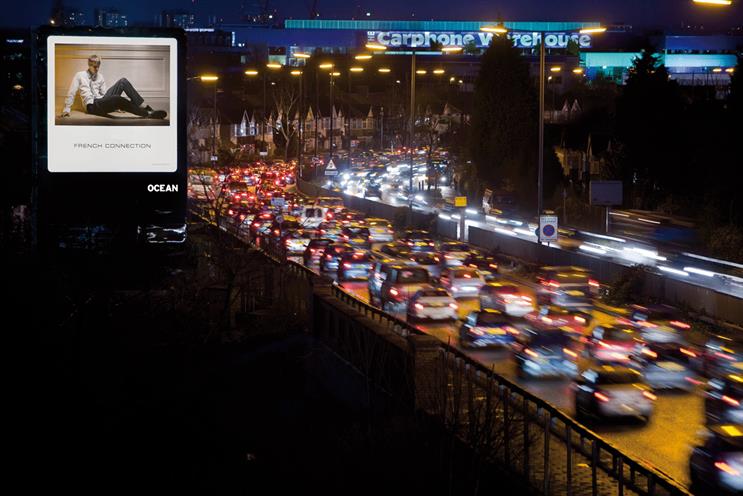 Digital out-of-home is fuelling growth in outdoor advertising – a trend underlined by the £15 million takeover of Signature Outdoor by the private equity-backed Ocean Outdoor last week.
Signature is the major regional player in premium large-format OOH in Birmingham and the West Midlands. The coming together of these two media owners strengthens Ocean's national digital OOH footprint, particularly in the major centres of London, Birmingham and Manchester.
The acquisition coincides with a number of factors keeping digital OOH in the spotlight and helping redefine the OOH industry in line with technological and consumer changes across the media landscape.
Outdoor's 6 per cent revenue increase in the second quarter was again driven by an impressive growth of the digital component. Digital is now expected to exceed a quarter of all OOH revenue in 2014, and we only see that pace continuing in the next few years.
Investment has been both considerable and well-targeted. For example, JCDecaux's 2014 investment strategy has delivered sales-led innovation at the largest 400 Tesco stores, high-quality digital sites across rail and retail, and a unique and creative location at Waterloo.
Outdoor Plus is notable among other media owners that continue to deliver great new locations across London, while we now have an impressive digital presence across roadside, retail and transport nationwide.
Irrespective of the digital investment – and with the help of Route and other data – we can confidently show OOH's ability to deliver, in conjunction with other media, incremental audiences. This includes some of the 20 per cent of a brand's potential customers who won't see its TV ad and the increasing number of younger, more mobile audiences whose media behaviour is very different from the norm.
The accumulation of digital inventory keeps OOH relevant and at the forefront of technology. Consumer engagement as we travel, work, shop and play has never had a broader canvas that allows brands to be promoted in a relevant context, whether in downtime or real time.
This adds an important layer of effective and con­textual audience-targeting around location and time of day to a medium that delivers cost-effective reach and impact.
Clients are embracing the opportunities more than ever before, as agencies seek to redefine ways of reaching and interacting with customers and competing for their time. Our work with brands such as Google has put context, location and innovation at the heart of the communications relationship for clients seeking the right combination of branding and activation.
The Ocean and Signature tie-up is a genuine milestone in how our industry can con­fidently deliver a range of solutions rooted in quality, technology and innovation. We believe the move could signal the start of a sustained roll-up of digital assets, concentrating inventory into players with a focus on investment as well as innovation.
This could also prove the start of a period of positive disruption, with significant outdoor contracts (including Transport for London street furniture, the London Underground and other city contracts) all up for grabs.
It all makes for an exciting time when clients can have growing confidence in an industry that is geared for change as well as being increasingly accountable.
The acquisition also raises the question of digital OOH currency and trading models, with stronger players now emerging with a concentration of digital OOH assets.

James Copley is the managing partner of Talon