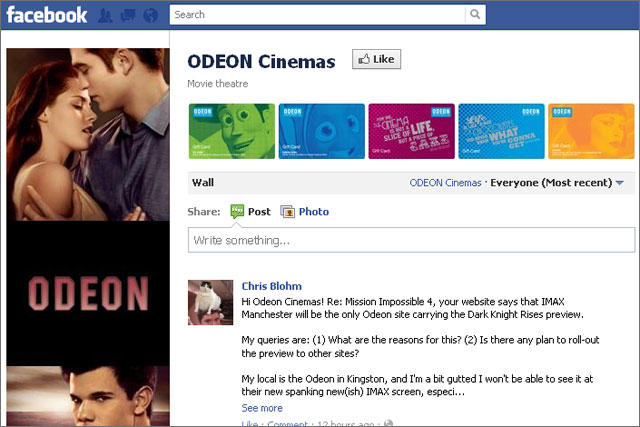 The Odeon Event Organiser app, created by Jam, enables users to select films, view screening times and purchase tickets, from within the brand's Facebook page.
Users can create a Facebook event around the film and invite their friends on the network to join, meaning the can coordinate cinema trips. The app is expected to roll out later this week.
Marketing first revealed Odeon was developing an f-commerce strategy in June. The cinema already has a considerable presence on Facebook, allowing users to watch trailers, win prizes and discuss and rate films showing at the cinema.
Luke Vetere, marketing and sales director, said: "With a Facebook community in excess of 50,000, we wanted to create a simple mechanic which celebrates the social interactivity of the site and allows users and their friends to plan a trip to their cinema in three easy steps."
Rival Vue Cinemas launched a Facebook booking app in February this year, however, unlike Odeon's app it takes users to its main website to complete the transaction.
The launch gives the transactional capabilities of Facebook a shot in the arm, a service that has been slow to take off in the UK.
The number of brands turning to Facebook for commerce is on the up, but currently this activity tends to be around promotional offers or driving consumers their own online stores.
Just a handful of brands have launched fully transactional sites on Facebook, after ASOS became the first in January this year.
Interesting examples of f-commerce include Heinz and Magners both selling special edition products on the site.
Follow Sarah Shearman on Twitter @shearmans