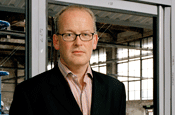 O'Dowd will be responsible for developing the station's off-air sales through CD releases, concerts and online music sales, which have historically all been considerable revenue strands for Jazz FM.

In the past, off-air sales have accounted for more than 70% of revenue at the station that is owned by GMG Radio, but which will be run by The Local Radio Company in a three- year licensing agreement between the two companies.

The station was launched in 1990, before being sold to GMG in 2002. It was rebranded as Smooth Radio in 2005.

It will relaunch on 6 October on DAB in London, Glasgow, the North West and West Midlands.

O'Dowd was appointed group enterprise director of GWR group in 1993, after a spell on Classic FM, and has most recently built up a portfolio of companies including a concert production firm and a health company.