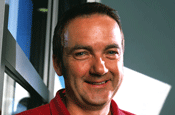 Addressing a potential shortfall in TV advertising of up to £235 million a year by 2012, Ofcom said in a report published today that it favoured the creation of a new organisation created by "forming partnerships, joint ventures or mergers between Channel 4 and other organisations."|

This potentially opens the way for a new relationship between Channel 4 and BBC Worldwide, the commercial arm of the BBC.

Another potential solution would be a merger between Channel 4 and Five.

Ofcom also recommended that the BBC licence fee be kept and rejected the idea of "top-slicing" the BBC's funding for programmes and services.

The report also recommended that ITV and Five's public service commitment be reduced to focus on national and international news.

The Government will now decide whether to implement Ofcom's recommendations.

The regulator called for government to act "within the next year as the current public service model is not sustainable."

Ed Richards, the chief executive of Ofcom, said: "Our proposals aim to sustain the quality and creative spirit of public service broadcasting while capturing the opportunities of broadband distribution, mobility and interactivity."

Andy Duncan, the chief executive of Channel 4, welcomed proposals for closer ties with the BBC.

He said: "It would create an exciting new organisation, combining and optimising strong brands, content and distribution."