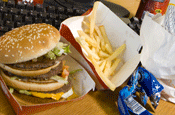 The ad watchdog today released its interim review of the effects of the restrictions introduced that year.

It found that the amount of advertising for food and drink high in fat, salt or sugar seen by children aged four to 15 dropped by 34 per cent over the period.

For younger children, the amount was 39 per cent, while the drop was 28 per cent for older children.

The review also found that children are seeing 69 per cent fewer ads using cartoon and film characters to advertise food, but 22 per cent more with celebrities.

During the period, the main terrestrial commercial channels saw an overall reduction in advertising revenues and a 6 per cent decline in food and drink advertising revenue.

Most other digital commercial channels increased their revenue from food and drink advertising.