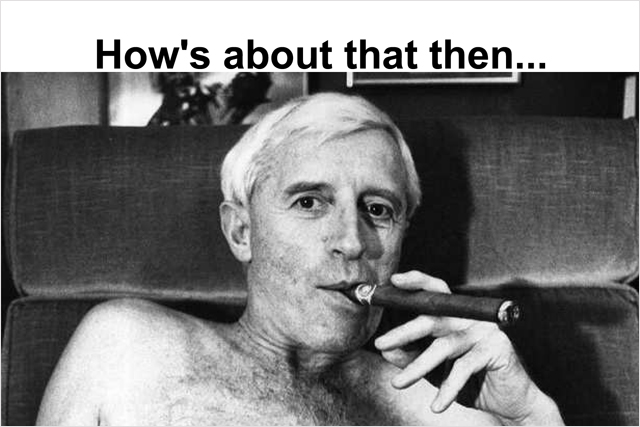 Both Extreme Publishing's TBM magazine and clothing brand Dirty Smart used images and references to the late TV presenter, whose name has dominated the media as the perpetrator of alleged mass-sexual abuse.
TBM's email marketing ploy used Savile's catchphrase "now then, now then" in the subject line, and the line "how's about that then" above a large image of the presenter posing in his underwear and smoking a cigar.
The image appeared in black and white with a colour picture of TBM magazine in Savile's lap. Accompanying text read, "Christmas is coming and what better way of relaxing than to pull up a comfy velour settee, light up a Cuban cigar and finger through a copy of your favourite magazine – delivered direct to your door. TBM… the publication that doesn't take itself too seriously. 'As it 'appens!'"
DirtySmart's Halloween email advertisement gave consumers a choice of two images to click on for the chance to receive a 50% discount. The two images, one of a pumpkin and one of Jimmy Savile's face, were displayed beneath the words, "choose your fate".
Both ads received consumer complaints calling the ads offensive and irresponsible in view of the media coverage surrounding the allegations of sexual abuse against Savile.
TBM and DirtySmart made it clear they had no intention of causing offense or of making light of sexual abuse allegations, and that in both cases, people that received the emails had opted in to the e-newsletters and were equally able to opt out.
The ads were banned by the Advertising Standards Authority and both advertisers were told to "ensure they prepared their ads with a sense of responsibility to consumers and to society, and to ensure they did not cause serious or widespread offence".