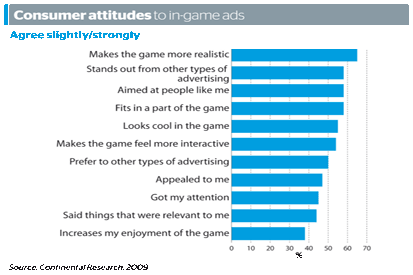 A study of 500 consumers aged between 15 and 34 dismisses the cliche that gamers are 'geeks' sitting on their own in darkened rooms. The survey, carried out by Continental Research and Microsoft's Massive Inc, finds that the average gamer earns around £22,000 a year, compared with the national UK average of £14,000. Contrary to the stereotype, gamers crave premium brands, are interested in fashion and spend more money on grooming products than non-gamers.
Almost half of those surveyed claimed to have posted comments or reviews on product websites in the past six months, with a further 80 per cent believing they could influence other people's choice of mobile phone or gadget.
The in-game ad sector is still relatively small, with eMarketer valuing it at £266 million last year, less than a tenth the size of the UK online advertising industry. However, a diverse range of brands including Reebok, Red Bull and T-Mobile is experimenting with in-game ads due to their increasing effectiveness.
According to Continental Research, 54 per cent of consumers spontaneously recall the in-game ads they see, while 63 per cent believe ads make the experience more realistic.
In an effort to attract new advertisers to the medium, in-game ad networks including Massive and IGA Worldwide are working to boost the number of commercial opportunities.
As well as virtual billboards and shop fronts that can be dynamically updated, brands can now take advantage of in-game video ads and click-to-buy functionality that enables consumers to purchase both real and virtual products from within the game.
Diesel recently partnered with PlayStation's virtual world Home to offer designer avatar clothing, with items ranging from free-of-charge to £1.30.
In March, IGA Worldwide teamed up with Posterscope to allow brands to extend their outdoor campaigns into locations within its network of 80 premium video games.
"In-game advertising is a great way of targeting 16 to 34 year-old consumers," says Ed Bartlett, IGA's European vice-president. "An unparalleled level of consumer engagement means in-game advertising is emerging as a viable alternative to TV or radio."
Budgets are tight and in-game advertising is still in its infancy, but internet-enabled games consoles such as the Wii, PS3 and Xbox 360 are rapidly broadening the appeal of video games beyond the traditional male audience. With consumers spending more on games than DVDs and cinema tickets, in-game advertising looks set to make its way onto an increasing number of media schedules.