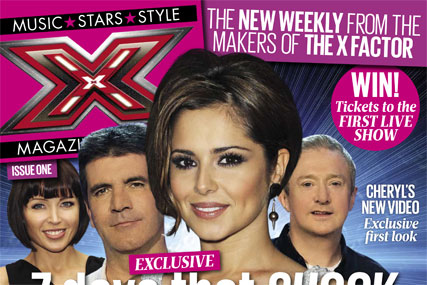 The weekly title, published by Haymarket Network in conjunction with FremantleMedia Enterprises and Syco Entertainment, will have a cover price of £1.95. It will be rolled out nationwide after an initial period with the supermarket.
The launch team for the title includes Peter Robinson, the editor of music news website Popjustice.com. Robinson, who has also written for NME and The Guardian, has taken on the role of senior editor while continuing to run Popjustice.com.
Robinson said: "X is a music magazine that's totally different to anything we've seen before. It boasts the best editorial team of any pop magazine in 20 years so it looks brilliant, feels fresh and is both smart and funny.
"Our remit is pretty broad, so while we may cover 'The X Factor' finalists, we are also the place to come for A-listers, the Top 40 and a variety of our other favourites.
"X will speak to an entire generation of music fans who have grown up without a mainstream music magazine written in a language they understand."
Launch issue highlights include: an interview with Simon Cowell about Cheryl Cole's illness, how it affected the show and how bad it really got; an interview with Kylie Minogue on her sister Dannii, her return to health and her four decades in pop; and pictures taken from Cole's latest video.
The magazine's commercial team will include Jenny Taylor, formerly of GWR and Bauer, who takes the position of ad director.
The magazine coincides with series seven of the primetime ITV1 talent show.
Distribution of the magazine will be managed by Frontline, the UK's biggest magazine distributor.