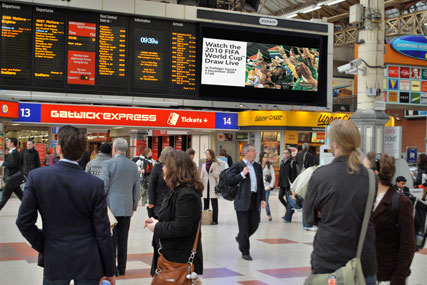 The planned investigation comes on the same day the UK's largest outdoor media owner JCDecaux was awarded Network Rail's £162m railside contract.
The OFT said that the sector is highly concentrated at the levels of the specialist buyers and outdoor media owners.
Its study will consider "whether there are any distortions of competition or barriers to entry at different levels within the sector".

It will look at the payment of commissions by outdoor media owners to the specialist buyers and how these affect the incentives of those buyers.
The OFT will also consider potential contract issues between local authorities and outdoor media owners and whether clauses are to the detriment of local authorities and the taxpayers that fund them.

Heather Clayton, senior director of infrastructure at the OFT, said: "The cost of all forms of advertising is reflected in the price consumers pay for goods and services.
"This market study into outdoor advertising will take a look at whether the market works well in terms of offering firms and local authorities deals that are fair, competitive and transparent."
Today (18 May) Network Rail confirmed it has awarded its railside contract to JCDecaux following the purchase of defunct media owner Titan Outdoor's assets, a move cleared by the Office of Fair Trading.
JCDecaux now makes up approximately 29% of the outdoor industry which the OFT said is worth around £780m a year.
Alongside JCDecaux the other big outdoor media owners are CBS Outdoor with 23% of the market, Clear Channel Outdoor with 22% and Primesight, which was just awarded the Network Rail roadside contract, with 12%.
A number of smaller media owners make-up the remaining 14%.

The specialist side is even more consolidated: WPP's out of home agency Kinetic has approximately 44% of the market, Aegis agency Posterscope manages 41% of spend, Interpublic's IPM lags behind with eight per cent and the final five per cent is made up by direct and other business.
Gen Outdoor Media Intelligence, one of the last remaining independent outdoor media specialists, closed on 31 March after losing its last remaining pieces of business to Posterscope and Kinetic.

The initial phase of this project is expected to last three months, during which time the OFT will gather and assess evidence from interested parties.
The final duration and scope of the project will depend on the outcome of the initial phase but the market study is expected to be completed by December 2010.