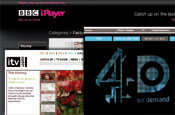 The regulator could refer the joint venture to the Competition Commission if it is likely to result in a "substantial lessening of competition" within the video-on-demand sector.

The OFT has issued an invitation to comment and is asking for responses by 14 May. The joint venture's launch is currently expected in August.

Former BBC technology boss Ashley Highfield was recently appointed as CEO of Kangaroo.

Meanwhile, ITV is recruiting for a content controller for its Kangaroo services. The broadcaster is looking for someone to work between Kangaroo and ITV rights acquirers and owners, managing the rights acquisition budget and meeting commercial and audience targets.